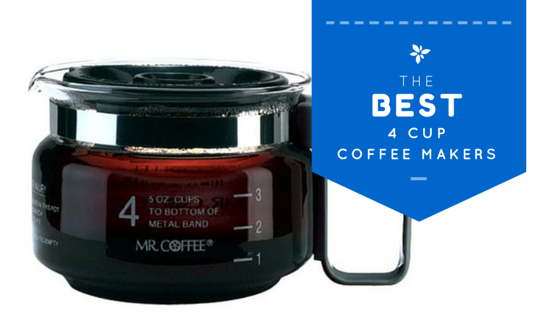 With all the talk of Keurig's machines and larger, family sized coffee machines, it seems like the basic, classic, four-cup coffee makers are quietly being pushed to the background.
Poor guys—I almost feel sorry for them. I mean, these machines are small, simple, traditional coffee machines, and they aren't getting any spotlight.
I'm here to change that. These devices have simplified the art of making coffee. In fact, there's been an ongoing joke for the last 30 years that you can't make coffee until you have coffee—how does that even work? One answer is to prepare the coffee ahead of time—like the night before. The other answer is to make it so easy you can do it in your sleep.
That's what makes these coffee makers so great. Each of these top rated 4 cup coffee makers delivers an excellent cup of coffee—each and every one of them. They are traditional drip-makers, so the setup of each is nearly identical. They are dead simple. Most don't have bells or whistles. Most don't have touch-screens or settings. They have a simple on/off switch. Pour some water in the reservoir, insert a filter, add coffee, and turn it on. Honestly, it doesn't get any simpler than that!
Enough about coffee—let's dive right in and talk about why these four-cup coffee makers are the best.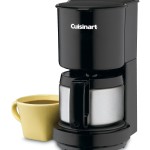 Cuisinart is a coveted name in kitchen appliances. Personally, I am a big fan of Cuisinart. I expect no less from any device that carries their name. It doesn't do a whole lot except make coffee—exactly what it's supposed to do.
At first look, you might expect the carafe to be thermal because it is stainless steel—it is not. Since it is stainless steel, the carafe might dent if you drop it, but it's not as delicate as the glass ones that are prominently on the market, so it won't break and shatter on your kitchen floor.
It does include a nice little feature that's not too common among four-cuppers. It has an auto-shut off feature. We timed this to be 30 minutes, which is more than enough time to make sure the coffee doesn't burn. While this isn't long enough for a busy office, it is perfect for a small one or two person office. Many commercial buildings require coffeemakers to have this feature for safety, and this one fits the bill.
Another nice feature is the brew-pause feature. It is always frustrating if you remove the carafe, and the coffee maker continues to brew right on the hot plate. The brew-pause feature means you can remove the carafe before it's done brewing and pour yourself a cup of coffee. Replace the carafe and it will continue to brew right where you left off.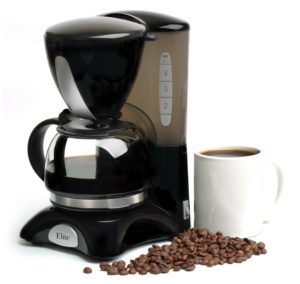 It looks like the designers put some effort in with this one—it has style! While I'm sure that "style" isn't on the top of your list when you go shopping for a coffee maker, it certainly doesn't hurt to find one this chic.
Most coffee makers allow you to view the water level in the reservoir, but this one takes it further and makes it VISIBLE. Most of the time, when you measure water, you use the line markings on the side of the carafe and then pour the measured water directly into the water reservoir. You don't need to do that with this one—the markings are so painfully clear on the side of the machine. You don't need to turn to look directly at it—the markings are visible from a distance.
Like mentioned with the Cuisinart above, this one has a brew-pause function. While it's not a single-serve, under-one-minute Keurig machine, if you simply find it excruciating to wait for the last of the coffee to drip down before you grab your cup, then you'll find solace in this coffee brewer. Take the carafe at any point in the brewing process and pour yourself some of that bittersweet nectar.
The carafe is dishwasher-safe. For those who simply don't have time to hand-wash the carafe, the glass carafe can withstand the treatment of the automatic dishwasher.
Hamilton Beach is a consumer-level and commercial-level brand. Knowing this alone puts this coffee maker in my favor. It is black, sleek and simple.
When you do need to make some coffee, the swing away basket makes this perfect for kitchens with low overhead. If the cabinets sit too low, you won't have to physically move the coffee maker to open the way to the filter basket on makers whose lids open vertically.
The lighted on/off switch makes it completely possible to see whether the machine is on in the dark. Perfect for mornings when you don't feel like turning on the overhead light just yet. It doesn't have an auto-off feature, but you can see the light from the power switch across the room.
This machine uses cone-type filters, so make sure you buy some before you think the standard basket-style will do.
The hotplate is non-stick, which is perfect for cleaning up little spills here and there. When the carafe is removed, what do you see? The hotplate. If it is dirty with old coffee and other things that might get stuck on there, you'll notice.
The coffee maker might not have bells and whistles, but trust me when I say you don't want a coffeemaker to whistle—that's for tea kettles. The power switch is bright red providing a beautiful contrast to the black and making it easy to find in a darkened room. It's not a four cupper—it's a five cupper. That makes it perfect for when you are scraping the bottom of the barrel wishing you had just a little bit more.
One of the beautiful features of this maker is the cord storage—there is a small hollow in the rear of the device that allows you to store the cord in an out-of-the-way fashion. It's as if they designed this machine with frequent movers in mind, like your 19-year old college-bound son or daughter.
The lid opens vertically, which means you'll need some extra space on top of the machine if you don't want to physically move it every time you wish to make coffee. I've been there and done that—it's not fun.
Mr. Coffee doesn't play around with his name. If he doesn't make coffee, then I don't know what he makes. This coffee maker has a nice, bright, green light right there at the front of the machine—indicating if the machine is on or off.
The nice thing about this model is the gold-tone filter that comes included. This might mean you have one more dish to wash, but you won't have to buy and maintain a stock of filters. It comes in both black and white for the discerning interior decorator. This one comes with a brew-pause feature as well, making this both good-looking and functional.
Often coffee makers will come with a single water window on one side of the machine that lets you know how much water is in the maker before brewing. This one, however, has one on each side, making it easy to see just how much water is in there. This is perfect for planning ahead and keeping the water reservoir full for whenever you need a pick-me-up. This one uses the classic flat-bottom basket-style filters.
This one does everything all the other models do so well—makes a mean cup of coffee. It also has one thing the others don't. It is programmable. This means that it has a digital clock on it. When a coffeemaker is programmable, it means you can program it to brew at a certain time—which is awesome if you find yourself running low on time every morning. Before you drift off to sleep, set it to brew ten minutes before you have to be out the door in the morning. You'll be graced with hot, fresh coffee when you need it. Of course, the clock will always be there to tell you just how late you're running.
This one has a removable filter basket that is top-rack dishwasher safe. It doesn't usually get too dirty, but if you want to make sure you clean the maker really well, you can. Pop it in the dishwasher and put it back when it'll clean. Other than the carafe, this is the only one that should need cleaning.
Conclusion
When you want simple, these four-cup coffee makers seal the deal. Most of these are pretty straightforward. Pour water in the reservoir, insert a coffee filter, fill with coffee, and turn it on. With its small size, expect a complete carafe within 3 – 5 minutes flat. Most of these will use the basket-style filters with a flat bottom, 4 – 6 cup capacity. One of them—the one from Hamilton Beach—uses cone-style #2 filters. Make sure you pay attention to the filter size and type. Otherwise, you're due for another trip to the local grocery store before you can use your maker.