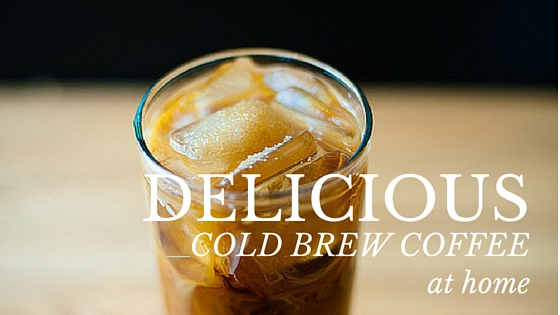 Cold brew coffee? While it sounds strange, cold brewing your coffee may actually be much better for you. Roasted coffee grounds contain several oils and fatty acids, which are soluble at certain high temperatures. When you hot brew, these fats end up right in your seemingly innocent cup.
However, cold brewing prevents these extra oils from being released, eliminating over 60% of the acid found in hot brew coffee! This not only ensures a smoother flavor, but gives you a healthier cup of coffee as well.
In addition, cold brew concentrate lasts up to two weeks when stored properly. That is, if you can last that long without drinking this excellent coffee potion! Below, I've listed some of the top cold brew coffee pots, so you can try making cold brew coffee at home.
Toddy Cold Brew Coffee Maker
Toddy
is the number one name in cold brew coffee. For over 50 years, this company has been cranking out cold brew systems for both coffee and tea lovers. Toddy has perfected their cold brewing system with their patented brewing container and filters. One great feature to the Toddy system is that the filters are reusable. Unlike conventional drip machines that use one-time paper lines, Toddy felt filters are designed to be used up to 12 times (or after three months, if you are an infrequent coffee drinker), and no soap is required for clean-up. Toddy brewers are also excellent for cold brew teas. With this maker, it is easy to see why the Toddy system is so popular!
Hario Water Brew Coffee Pot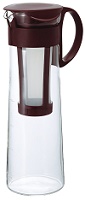 Users rave about the durable glass and BPA-free plastic of the Hario pot. The tall cylindrical shape of the pot makes it great for storing your coffee in the refrigerator (if you don't instantly drink all of it). The sleek design also makes an excellent countertop piece. The most interesting feature of the Hario is the built-in filter. While the felt filters of the Toddy are much better than paper liners, you will still need to replace the filters after several uses. However, this built-in filter requires no replacements and clean-up is as easy as running under your faucet. The only noticeable downside is that this design does not allow direct contact between the coffee and water, producing a much weaker coffee than other makers.
Primula Cold Brew Glass Carafe Iced Coffee Maker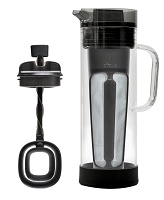 The Primula coffee maker is by far the most sophisticated-looking. If you want a cold-brew coffee maker that sits elegantly on your counter top, this is the one for you. Like the Hario, this maker is equipped with a reusable, built-in filter. The stainless steel mesh filter has a removable bottom for easy cleaning. Plus, the Primula's patented FlavorCore System allows you to interchange the filter cores between multiple MyBev products, giving you endless coffee creating possibilities. In addition, the Primula comes with a unique Flavor Mixer, helping you stir in your favorite additions while your coffee brews. The top also has a pour spout, making it easy to get the perfect amount of coffee in your cup.
OXO Good Grips Cold Brew Coffee Maker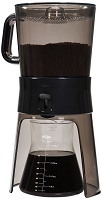 OXO offers an extremely unique version of the cold brew coffee maker. Their patented Rainmaker feature ensures perfect water distribution throughout your coffee grounds, giving you the boldest flavor possible for cold brew. This maker also offers a Brew-Release Switch that enables you to drain the coffee directly from the bottom of the pot. You can even turn the switch off in the middle of draining if you simply cannot wait to try your cold brew concentrate. In addition, all of the parts to this maker fit inside one another for easy, compact storage. On a personal note, I think the beaker-design of their carafe is a quirky spin on coffee glassware.
Takeya Cold Brew Iced Coffee Maker
This maker is very similar to the Hario and the Primula. The built-in filter eliminates the use of throw-away filters,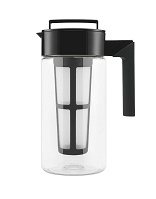 which saves both the environment and your wallet! This design is ideal for those who want a quicker brew, as there is no need to wait for the water to drip over the grounds (like with the traditional drip makers or the OXO). The separation of coffee from water also makes for super quick clean up, since the grounds area already collected in your filter. The Takeya also has a no-slip grip that makes pouring incredibly easy, even for the clumsiest coffee lover.
Only two downsides to this particular pot: the mild brew and the plastic carafe. This maker, like the Hario and the Primula, does not seep the grounds directly in the water, which causes a milder flavor than that other makers. While not ideal for espresso lovers, this is a great option for those who love milder coffees. As for the plastic carafe, it is ensured to withstand rapid temperature change and is BPA-free, but may be off-putting for those who prefer the elegance of glass
Conclusion
Cold brew coffee offers several advantages over the traditional hot brew method. First, the ultra-concentrated coffee can be stored for up to two weeks in your refrigerator (if you think you can stay away from it for that long). This helps make your coffee mornings even quicker, as your base coffee is already make. Just add your water or milk to dilute and enjoy!
Second, the cold brew method allows for easy ice-coffee making. Third, this method gives you a smoother, incredibly less acidic flavor than with traditional methods. Find your regular morning coffee gives your stomach some trouble? This is an ideal solution. Though cold brew doesn't eliminate acid entirely, it does have a dramatic difference. It is also great if you just love a milder, easy-to-drink cup of coffee.
I've given you several very affordable versions of the cold brew coffee maker. Hopefully this has helped make your cold brew decisions a little easier. Whichever maker you choose, you are sure to love your cold brew coffee!