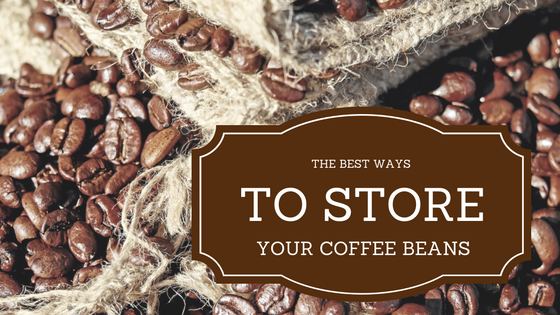 Just can't figure out how to make the perfect cup of coffee?
Tired of trying out different methods that just aren't working?
Thought you found the solution but ended up disappointing you yet again?
It becomes a cycle and you (and your pockets) are set up for a trip down the drain. You might just be missing a key factor that will change your whole coffee brewing game.
I have two words for you: Storage Container
You might ask, "Why would a storage container affect the taste of my coffee?" Let me tell you why.
In order for you to make an excellent tasting coffee, you need to have fresh beans. If your idea of keeping beans fresh is exposing them to open air, you're wrong.
They can oxidize. Meaning once they are exposed to moisture, air, heat or light, your coffee will become stale or bitter. Notice when slicing an apple open and it turns brown after exposing it for a bit? That's the same thing that happens to coffee.
You're asking why spend money on a storage container when you can just store it in the freezer?
Hold up.
Common Coffee Storage Mistakes
I made the same mistake and I'm not about to share my demise regarding this one.
Let me breakdown some of the common coffee bean storage mistakes most people make.
1. Storing it in the freezer or refrigerator
This makes the coffee stale and speeds up the aging process. It absorbs moisture and the flavors in that moisture (since coffee is hygoscropic-to make it sound fancy.) Say you have fish in your fridge, the beans absorb all that. Let's just say we don't want fish tasting coffee in the morning..
But if you still want to go with storing it in the fridge, make sure to put it in an airtight container. Literally airtight. (We don't want that wack coffee, do we?)
2. Storing coffee next to the oven, stove or microwave
This exposes the coffee to heat and moisture which ruins the flavor. A true coffee brewer's nightmare.
3. Storing coffee too long
Purchase quantities that you can consume within two weeks' time since coffee begins to lose its freshness after some time.
So how should you really store coffee?
Just as long as the beans are dry and are placed in an airtight container, you're good to go. A coffee bean storage container does just that.
By now you might just give it a try but you don't know where to start and what to find. Looking for the best coffee bean storage container can be a challenging task, but I have found several products that I think will work perfectly for you.
Top Picks for the Best Coffee Bean Storage Container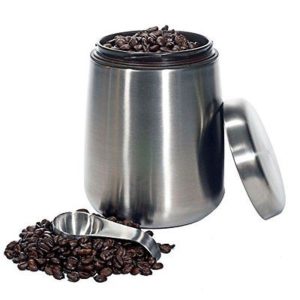 This is built to keep your coffee beans fresh and airtight for a long period of time. It is also made out of stainless steel which has the ability to isolate sunlight, heat, steam and moisture to the max.
PROS
+ Has built in magnetic device to keep coffee scoop inside the container
+ Not just for coffee, can also be used for keeping tea, sugar, salt and other fresh ingredients
CONS
- Handwash only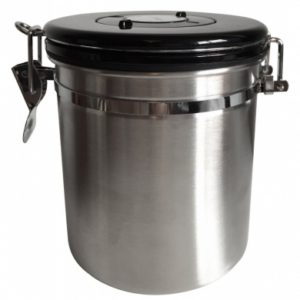 An airtight coffee bean storage that ensures your coffee is stored in optimum conditions meaning you can keep enjoying the best taste experience possible.
Pros
+ Has date wheel on the lid which lets you keep track of your coffee's expiry date
+ 100% money back guarantee
Cons
- Not vacuum sealed
- Doesn't hold one pound of ground coffee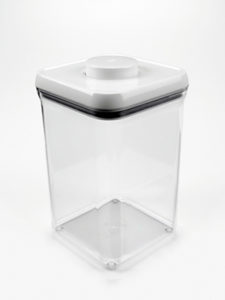 This container has a unique push-button mechanism that creates an airtight seal with just one touch. The button also serves as a handle to lift off the lid.
Pros
+ Dishwasher safe
+ Tinted body and stainless steel lid for attractive countertop display
+ Pop-up button serves as handle to easily remove lid
Cons
- Not recommended for use with flavored coffee
Our Pick
The freshest type of coffee is the best tasting coffee and out of all the products mentioned I have to say there's this one that stands out and I believe could satisfy my needs the most. The BlinkOne Coffee Canister! With its stainless steel design, it instantly adds a modern vibe to your kitchen. It's not only for coffee but also for other fresh ingredients. The free magnetic spoons is a bonus too, it sticks under the cover which will save the hassle of getting and finding a spoon. Talk about total package.