You might be racking your brains wondering what you would get someone who loves coffee. You're searching for ideas here and there and just can't decide what's that one item that would surely be a hit when that coffee lover of yours opens the nicely wrapped present.
You picture the person's face brimming with anticipation while unwrapping your surprise. The face lights up, beaming at you when that someone sees what's in the bag. Something like "Aww, you got this for me? How did you guess?", or maybe "Just how did you get this, huh?" – Would all be worth the research and spending some bucks. If you just can't wait to get that reaction, then here are some serious, but remarkable gift ideas on what to get a coffee lover that are guaranteed to stand out:
Alpha Coffee Storage Container
For coffee lovers everywhere, keeping the coffee fresh can be a big problem.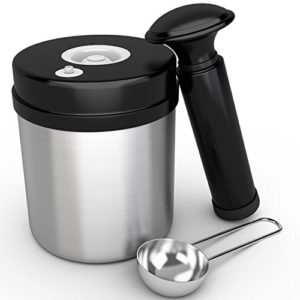 Why not help your loved one keep their coffee keep its maximum flavor?
Alpha Coffee Storage Container
is designed exactly just for that purpose. Air is pumped out of the container and tightly locks the coffee (and even your tea or spice) inside. The result: an uncompromised coffee taste wherever and whenever you want it for months ahead.
Alpha has also made sure that their container is made of solid stainless steel so no need to worry about it being knocked over and breaking as this is definitely built to last (with a matching 100% matching lifetime guarantee as well!)
Perhaps, one of the things that truly set this item aside from other similar items is the fact that it has a reminder so you know exactly when you last sealed it. Cool right?
All in all, this would be a perfect gift if you're looking for something to give to a coffee lover friend who wants their brews in top taste for a longer time. Perhaps it would also be a great gift for yourself and your coffee collection!
KeepCup Brew Glass Reusable Coffee Cup
What to get a coffee lover who is always on the go?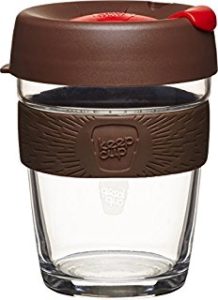 Want to give a gift that mixes the practical with the stylish?
Then this is will be the perfect gift to give.
This is the beautiful KeepCup glass reusable coffee cup. It is the barista-standard 12 oz size that could be the most useful gift for your busy java fan.
Afraid that the glass is heavy and easily breaks?
Well, no need to worry because KeepCup is made of borosilicate glass that is resistant to thermal shock, which makes it different from your ordinary fragile glass, and makes this mug sturdy and microwave-safe.
You will also love the polypropylene (non-toxic) spill-proof lid that keeps the liquid safe as you carry the cup around.
Now you might be thinking about scalding yourself when holding a hot cup of coffee. That's not going to happen in KeepCup because of the cork ring around the glass that acts like a heat cushion for your hand.
Care should be taken though in throwing the cup into the dishwasher over and over again as it may shorten the life of the cork. Better wash the cup with your hands to preserve the condition.
Tugo Luggage Cup Holder
What to get a coffee lover who is also a jetsetter?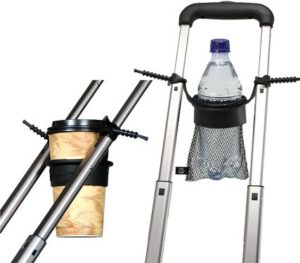 This unique and very handy Tugo luggage cup holder might just be your best bet. If you know someone that shuttles from one airport to another and always looking for their next caffeine fix, then this is a must-have travel companion.
It's made of a double-nylon neoprene material which is a synthetic, wetsuit-like rubber that's flexible in any temperature. It fastens to your rolling bag quickly and effortlessly and can be removed just as fast when it's time for wheels-up.
You can wash it as often as you want as you will find the material and structure to be sturdy and resilient.
Another added benefit is that this cup holder is also functional for all kinds of bottled drinks, up to big 44 oz size.
No more worrying about what to get a coffee lover who is also a frequent traveler. The luggage cup holder is a must-have and is sure to be the perfect gift.
Death Wish Coffee
Now this one is only for your serious coffee aficionados.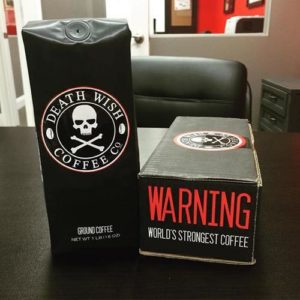 This goes beyond just what to get a coffee lover. But more along the lines of what to give the high level, hardcore, kill or be killed, coffee addict!
One taste of this beautiful Death Wish Coffee, and you're bound to have your mind blown away with its "200% more caffeine" content. No, you wouldn't wish you were dead, rather you will actually keep coming back for more. You will feel so alive and alert that you will be able to get any work done in no time. At least that was what Death Wish drinkers experience after sampling a cup of this potent coffee.
It comes in whole coffee beans, ground, and K cups. Whatever form it takes, Death Wish packs the adrenalin-pumping flavor and aroma of dark roasted robusta beans that come from Central America, Ethiopia, and Indonesia.
This is not for the faint-hearted. If you're working within a limited budget, you might think twice about getting this, especially if the coffee falls short of expectations. Lucky for you there's a money-back guarantee. If Death Wish doesn't turn out to be the STRONGEST coffee you've ever tasted then you can submit for a refund.
Now, that's some strong confidence!
Black & Decker Coffeemaker
If you still haven't made up your mind at this point about what to get a coffee lover for the perfect gift, then the Black & Decker coffeemaker might just be the answer.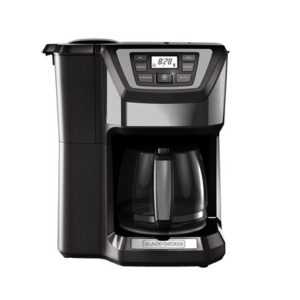 Who wouldn't want to have this practical piece of equipment?
It's easy on the pocket and comes with a 2-year warranty. Knock yourself out and brew 5 cups all for you or maybe share a cup with someone. The builtin hot plate will keep your freshly brewed coffee warm inside the glass carafe until you are ready for the next cup.
If you don't want to keep on buying paper filters, then we recommend adding this Medelco metal filter. This filter basket is both removable and washable, make cleaning up easy, and eliminating the need to have to keep buying paper filters. However, we suggest using a different metal filter if you are going to brew different flavor coffee, as the filter may retain the flavors after frequent use. In this way, the brew quality is always maintained. But if you want to be practical, you can't go wrong with this choice.
Conclusion
Any of these gift ideas is thumbs-up for that coffee lover that you want to please. The thought that you've gone out of your way to pick out what you think is the perfect gift is already thoughtfulness speaking volumes.
At the end, when choosing a gift for a coffee lover, you have to remember that they have particular tastes for things, especially when it comes to their coffee. Picking any of these gifts will truly show how you took the time to focus on what they really wanted. With unique items like this, it won't be a surprise that your gift will immediately be one of their favorites!