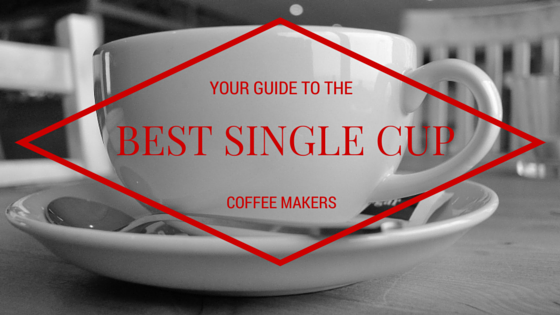 Move over Keurig! But not too far—we still need you. Twenty years ago, in the 1990s—wow, I must be getting old—single-serve coffee makers weren't even in existence. In fact, not even the traditional drip coffee makers were at their best. Sure you could make a satisfying and flavorful cup of coffee at home, but they were viewed very differently than they are today.
That all changed in 1998 when Keurig hit the scene. To make a long story short, if you look at what is available today, you'll find various brands of single-serve coffee machines in abundance—Keurig included. Many of them are just as good—if not better—than Keurig.
We took a look at several machines. Many of them didn't make this list—we had to discriminate and bring you the best reviews for best single cup coffee maker on the market today. Cheers!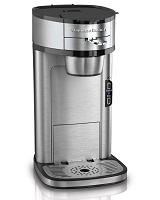 Hamilton Beach engineered a design to save you the most amount of time and hassle possible. In this machine, you don't need paper filters, and the scoop doubles as the filter basket. It's not programmable, but then again, it doesn't need to be. Single-serve coffee makers are ready when you are.
Flip the lid, take the basket and use it to scoop some coffee grinds and replace it. Fill with water, and press one of the two power buttons—this feature allows you to control the strength of the brew. One for regular, the other for bold.
This tall, stainless steel machine has a built-in stand for ceramic coffee mugs that are short and stout by nature, but will still accommodate your 14oz. tall travel mug.
Not compatible with K-Cups.
This Mr. Coffee is licensed to brew K-Cups without the DRM technology introduced in Keurig 2.0 machines. For all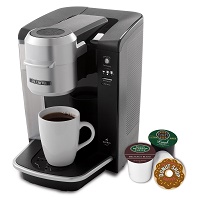 intents and purposes, this is Mr. Coffee's equivalent to a Keurig 1.0 machine. Don't get me wrong—Keurig 1.0 machines continue to be a hot seller, and this machine certainly plays its part. The market is saturated with several different reusable K-Cups, allowing you to use this machine with whatever coffee bean blend you heart (and taste buds!) desire.
Coming equipped with a 40oz. reservoir, this machine is ready when you are. You have a choice between three different brew sizes—6oz, 8oz, or 10oz. The drip tray is removable, enabling you to fit different size cups, from small ceramic mugs to taller travel mugs. With this large reservoir, all you need to do is pop in a K-Cup (or reusable one), fit your mug on the drip tray, and select your size. It doesn't get any easier to get a fresh cup of coffee at whatever time of day the need might hit.
Available in different colors of Black, Blue, and Red.
Compatible with K-Cups.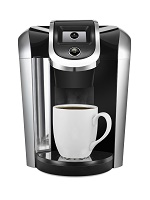 This is the name that started it all! This is a Keurig 2.0 brewing system which means you get the option of brewing carafes! Currently, Keurig is the only one offering single-serve machines with the ability to brew carafes for when the time calls for it. The machine features a touch screen to control all the settings, a 70oz. removable water tank, and a programmable clock with auto brew capabilities.
This one is designed to use K-Cups, of course! The market also has a number of different reusable K-Cup filters that allow you to use your own coffee.
There are individual settings for specialty drinks, like tea or hot chocolate. What really makes this one stand out is the color selections! Choose the color that goes best with your kitchen—Black, White, Red, Sandy Pearl, or Vintage Red! C'mon—how many coffee makers are offered in Vintage Red? It's a shade darker than any other red—the same shade they used in the diners in the 1950s.
Compatible with K-Cups.
Bunn is another high-end brand you see in fine dining establishments, but I assure you—this one is a home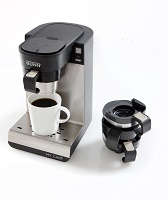 appliance. This one is nice because it comes with different filter baskets you can change out depending on whatever you're brewing at the time. It comes ready to brew ground coffee, soft coffee and tea pods, tea bags, loose tea, and yes, even K-Cups! Quite possibly the most sophisticated machine I have seen to-date, this one is stainless steel on black.
You can choose your brewing size, from 4 – 14 ounces, plus it brews in under a minute flat! The way it works is simple. The machine comes with four interchangeable drawers to accommodate whatever you feel like brewing at that moment—including water.
Do you have low-hanging cupboards without a lot of room underneath for your appliances? This machine's water reservoir lid spins on a hinge rather than lifts up, maximizing the amount of room you might need to fill it with water. You don't need to buy a separate reusable K-Cup filter with this one—everything you need is included.
Compatible with K-Cups.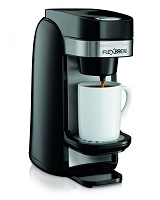 Hamilton Beach made this list twice! Another black design with stainless steel accents, this is probably the most affordable on the list—but one with more compatibility than some of the others. Hamilton Beach calls it a FlexBrew—the ability to brew your own coffee or K-Cups comes built in.
It has a simple on/off power button with a large red light indicating whether it is on or not. Like before, it has a built-in stand that can accommodate short and stout ceramic mugs along with the taller travel mugs.
This machine doesn't care if you like to start your day off with K-Cups or fresh ground coffee—it allows for both. That means you don't need to purchase a separate reusable K-Cup filter just to brew your own coffee. The mesh filter is stainless steel—it's easy to clean and won't pick up flavor hints of previous cups of coffee. This maker also allows for a variety of tea pods—make your choice from herbal, chai, white, green, and black—it doesn't matter. This will make them all.
This one also sells several different color you choose from Black, Grey, or Red.
Compatible with K-Cups.
Conclusion
While Keurig clearly leads the market in single-serve coffee machines, you are no longer limited by their line of coffee machines. If you want a Keurig, then the K450 offers the best value from their current line, hands-down. However, if you want more of a selection to brew what you want, then take a closer look at the BUNN machine or the Hamilton Beach FlexBrew. Each of these machines will give you whatever you might be itching for.