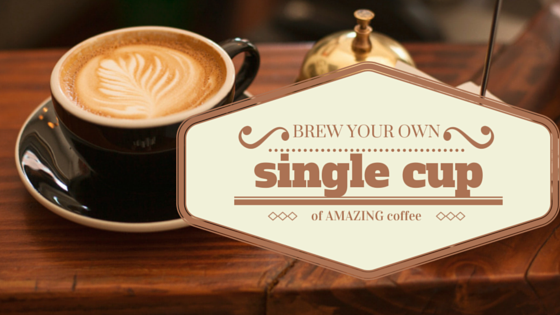 Single-serve coffee brewers were, at one time, a Keurig exclusive. In fact, that's what made them so great. Before, we were all using traditional drip coffee makers. And we were okay with it, weren't we?
I'd say not. In fact, many people who have experienced everything a Keurig has to offer wonders how they ever got along without it before. Evidently, there was a need for a new coffee design that we didn't know about yet.
The need is very real. Why would you want to brew an entire pot of coffee if you only need one cup? It fits perfectly in a myriad of situations, from being the only person in your office (anyone work from home or telecommute?) to being the only person in your household that drinks coffee. How about those of you in college dorms or otherwise small apartments? And you travelers out there—you need to be included too!
Keurig is credited for creating and kickstarting an entire industry of single-serve coffee machines. They may have been the first, but they certainly aren't the last. We have researched to find you a variety of single cup coffee brewers that use your own coffee.
We'll even tell you how to brew your own coffee in a Keurig 2.0 machine. Is that even possible? YES! And we'll tell you how!
This one made it to our list of top rated one cup coffee makers as one of the best. It is a beautiful single-serve coffee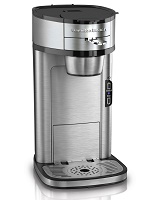 machine that's incredibly easy to use!
The filter basket has a handle on it that doubles as a scoop. Simply lift the lid, take the handle of the filter basket and use it to scoop some coffee directly from your coffee can! Level it off, and replace.
Fill with water, place your coffee mug—or your incredibly tall travel coffee mug—under the spout and press the brew button. Okay, not just the brew button—press one of two brew buttons! This one gives you the option of strengthening your brew, so if you want a strong drink, press the brew button that says BOLD!!
You can raise and lower the drip tray to accommodate different size mugs—an important feature to prevent splashing hot coffee on yourself or the counter.
Looking good in any kitchen, the stainless steel design will brew up to 14 ounces in a single cup. The filter receptacle has the matching stainless steel handle to complete the ensemble. No paper filters needed—the filter basket works great as it is. You won't get any grinds in your coffee.
Not compatible with K-Cups.
Well now—this doesn't get any simpler, smaller, or easier than this! This is an incredibly compact design, perfect for when you need just one small cup of coffee. There's no carafe to wash, no old coffee to reheat, and no excess coffee to burn. Just make your coffee with the perfectly-sized included ceramic mug, and you're all set!
They designed this perfectly. The power button is in the ideal spot for your hand to reach out, turn the power off, and grab your fresh cup all in one fluid motion. Although the machine is black, the power switch is red. It's an automatic drip coffeemaker, so it uses the same technology as the larger, traditional coffee makers.
The design uses a permanent mesh filter, so you don't need to keep a stock of paper filters handy. No grinds get in your coffee, and the receptacle is easy to rinse out.
Not compatible with K-Cups.
This one contrasts nicely against a lighter themed kitchen! This one is incredibly versatile for the price! It brings the full flavor of the coffee out at the perfect temperature. 
Not only will it brew store-bought coffee grinds, but it will also brew soft coffee pods and K-Cups! That's what I call getting more bang for my buck!
The design is simple. The only thing not so versatile about it is the clearance. You have just under five inches of clearance and no way to make adjustments—if you were planning on using a tall travel mug, you might wish to look elsewhere.
It is a tiny, lightweight unit with its own mesh filter. It may not look like it, but under the proper care, this baby will last for a couple of years, perhaps more!
Compatible with K-Cups.
The company that started it all! This isn't the machine to start it all, but you get the point. I promised that I would show you how to brew your own coffee in this, and so I shall! Innately, this machine forces you to purchase and use commercially branded Keurig K-Cups, but man—have you seen the prices on them? 50¢ might not seem like a whole lot, but when you make coffee using your own grinds, you're spending about 4¢ per cup!
This uses DRM technology. To use your own coffee, you need to "trick" the system into thinking that your coffee pod is an official Keurig one. The easiest and best way (in our humble opinion) is to use this refillable and reusable K-Cup filter from Ekobrew! You can find other options for using old, refillable, or any k-cup you'd like on our post on using old k-cups in Keurig 2.0.
Lift the lid of this machine and, on the left side, you'll see the optical sensor. Place the Freedom Sticker label on the left side of the rim of this cup so that the sensor will "read" the label and allow you to brew to your heart's content. Each label lasts through several washings—it's much more than a one-time use kind of deal.
Keurig is only coffee machine brand that I've seen that uses touch-screen technology. With individual settings for coffee, tea and even specialty drinks like hot chocolate, it's extremely intuitive and easy to use. Keurig's 2.0 machines are the only machines that allow you to brew single-serve coffee pods as well as carafes. So if you want the best of both worlds, you have it right here.
There are single-serve settings for six, eight, and 10-ounce cups. Plus, Keurig's programming will let you know automatically when it's time to clean and descale your machine.
The digital clock should tell you that it is programmable, allowing you to pop a pod before you go to bed and awaken to the aroma of fresh coffee, ready to drink.
Compatible with K-Cups, but hey, you knew that already, right?
Conclusion
One of our great freedoms in the world includes the ability to brew our own coffee. With so many choices, it's impossible to believe someone claiming there isn't a coffee that suits them! It's big business, too! Coffee is easily one of the most popular—if not the most popular—drink around the globe. Make a choice that's your very own by choosing a coffee maker that's your very own. Then go out and brew your very own blend, enjoying one of life's greatest freedoms.