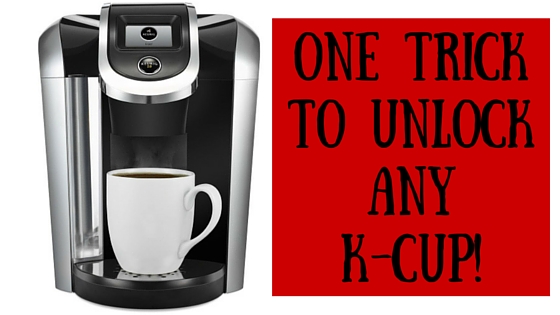 For those that own a Keurig machine, there's nothing easier than loading a K-cup into the tray, pressing a few buttons, and voila!, tasty coffee in no time. But you may have noticed that buying off-brand K-cups may be rejected by the machine. Keurig has taken measures to protect its DRM (digital rights management), which creates proprietary issues for those looking to avoid an attempted "monopoly" on their coffee and their brewing machines. Yikes, what's a thirsty coffee drinker to do?
The solution is the
SoloClip
. Keurig may be the widest known brand (both for their machines and their line of Green Mountain Coffee K-cups), but by mimicking the DRM tactics employed by Keurig, the SoloClip redefines what it means to be brew quick coffee from a Keurig machine.
After a quick installation to your Keurig® 2.0 brewer, you are able to use any brand K-Cup®. Besides, there's nothing worse than being rejected when all that you'd want in the morning is something tasty and caffeinated, not legal mumbo-jumbo.
Design
If you've had experience using other forms of K-cup alternatives to retrofit your Keurig, you may have experienced one of the most common problems comes from their design: plastic. While the companies issuing these—especially by Keurig's close competitors—may have seemed to have consumer's hearts in mind, they may also have wanted to snatch a quick buck from skirting around the legal system (don't worry; since a 2012 patent expired, any company can legally manufacture K-cups).
Clips like the FreedomClip seemed like a savvy alternative to sidestepping the DRM, but they missed a critical step in the construction: longevity. Some consumers have reported these cheap alternatives to last no more than five times—clearly not worth the money!
Other designs were clunky and cumbersome, requiring the consumer to enclose each off-brand K-cup in a separate chamber, requiring constant cleaning to reuse so that your French vanilla coffee doesn't start tasting like New Orleans' style chicory.
The
SoloClip's
design changes this predicament elegantly. Using a solid metal construction, the SoloClip doesn't experience wear out, warp, or leech once installed. Because of the strength of metal vs. plastic, the clips are smaller and won't interfere with the closing mechanism. It clearly is the better method.
Installation is incredibly simple, as it affixes to the Keurig machine itself, not to the cups. In addition, you can leave the SoloClip in place if you use your own coffee in a separate plastic pod. This is great for those that love a particular brand of coffee, but the manufacturer doesn't have a line of K-cups out yet.
Compatibility
One common question among customers is: Will this work for every Keurig machine? It seems like for every reaction, there's an equal and opposite reaction. Well, in this case, there's good news!
The SoloClip is compatible with most of Keurig's 2.0 brewing systems on the market.  So you can easily convert any brand of coffee that you desire while still maintaining the convenience and familiarity of your machine.
Conclusion
It should be noted that as miraculous as the
SoloClip
is to revolutionizing how you brew coffee from your Keurig.  It seems certain customers have noted that any cup size above 10 ounces may or may not be available (machine-dependent).  Perhaps this is just one of the ways that Keurig seeks to hold on to business from competitors.
Nevertheless, if you were looking to brew a single cup, then Keurig and their K-cups aren't the only player in the game. With the SoloClip, you can start enjoying any cup of coffee you'd like in convenience. And that's something we can all drink to!