One thing is for certain: Keurig takes coffee seriously. Keurig skipped class the day we were all taught not to reinvent the wheel because that is exactly what Keurig did in an enormous way. That was several years ago. They made it to the top of the food chain again when they came out with their Keurig 2.0 machines.
Coffee is a centuries old bitter drink that has become a staple of today's society. And not just in America, either. Coffee is one of the most popular drinks on a global scale. Making a cup of coffee the traditional way is simple enough. Boil some water, and then pour this hot water through ground coffee beans. The water grabs the essence of the coffee as it sifts its way through, leaving you with a cup of caffeinated goodness.
Traditional, modern coffee makers follow this same basic recipe wherein hot water falls through ground coffee beans. Aha! Now comes the issues Keurig is famous for eliminating. Coffee is usually a morning beverage. When seconds count, making a cup of coffee can take more time than you planned for and slow you down. Furthermore, the coffee may be fresh, but you end up with an entire carafe of coffee when all you needed was one cup.
Coffee manufacturers recognized this problem by installing timers on the machine. By preparing the coffee machine the night before, you can wake up to fresh coffee. But come on ~ I have never heard of anyone that has been faithful to the overnight timer feature. It is a hassle, and it is so easy to forget.
Keurig solved this problem in a very different way. They made it simple. Pop one of their K-Cups in the machine, put your cup under the spout and press start. Less than one minute later, you have a fresh cup of coffee, ready to drink.
Keurig has come a long way since their first machine. Adding a few features here and there seems to make a difference. It is an attractive luxury machine that will compliment your kitchen and make you want to be in there.
No modern coffee maker is complete without a touch screen. At least that what Keurig thinks and they are not afraid to show it off. Keurig invented the whole idea of single-serve coffee machines; they have a good product, and they know it. One of the nice conveniences of this machine is its ability to brew a 4-cup carafe of coffee in addition to the single-serve brews. While several compatible Keurig 2.0 compatible coffee pods exist, Keurig says if you use their K-Cups, you will get a perfect brew every time.
Notwithstanding the fact that it uses DRM technology to get you purchase Keurig branded K-Cups; it does brew a mean cup of coffee. It sports a 60-ounce water reservoir, which we all know Keurig uses to keep water hot and at-the-ready to brew your Cup of Joe in under 60 seconds. This comes in handy in the morning. Put a pod in, set your cup under the spout, and press the start button. By the time you gather your things for the day and are ready to head out the door, your coffee is hot, fresh, and ready to go.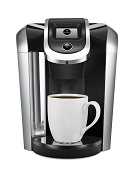 This one is only slightly different than the one above. It also has a touch screen to make things easy. The claim with this one is this was the first Keurig machine that allowed you to brew a 4-cup carafe along with the expected single-serve settings. The machine has settings for specialty drinks, like mocha and hot chocolate. Iced beverage settings are included.
Okay, there are plenty of customizable settings. The coffee maker brews in under 60 seconds, and while it still uses 2.0 DRM technology, you are not limited to using official Keurig K-Cups to make it work anymore. However, you will need to purchase refillable K-Cups specially marked with 2.0 compatibility. That does limit your choices a bit.
This machine comes with a 70-ounce water reservoir that makes it simple to fill up once or twice per week. During the week, you only need to choose a flavor, pop the pod in the machine and press start. It is a simple one, two, three process; no wastage either!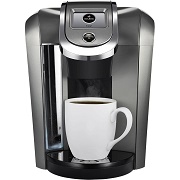 We are getting to the monster sizes with this one. This one has a few more features than the other ones. The K450 has an auto brew selection, which means this one has one to match. This one sports a nifty customizable neon light in the water reservoir. We had to check this one out, and we were not disappointed.
In traditional coffee makers that had strength control, this meant it passed water through the coffee grind tank more slowly, allowing more time for the water to pass through the grinds. This extra time strengthened the potency of the coffee. This one has digital settings to control the strength of your coffee.
This is one of the largest of the Keurig 2.0 home brewing systems. With a water reservoir that has a capacity of 80 ounces, you might be filling this up once per week. Of course, if you have several morning coffee drinkers in your house or 8-10 people in your home office, you will find yourself filling the water tank more often. Even so, it sure beats some of the space-saving models wherein you need to fill it up with every cup.
The last one is not a 2.0 system but highly recommended as a workaround for the 2.0 systems. For most people, a cup of coffee has to do with the grind and type of bean used, not necessarily the consistency. Consistency is important, but it is also easy to achieve in any coffee maker; use the same amount of coffee on the same settings with the same amount of water, and you have it. In traditional coffee makers without strength control, one merely needed to add another scoop of coffee to the coffee grounds tank before brewing it.
This system has all the benefits of a Keurig system without any of the DRM headaches. Keurig is already losing the DRM battle; people have figured out what the 2.0 system needs to brew correctly, and refillable coffee pods are already on the market that are compatible. After finding out that 2.0 machines are unable to brew the coffees people are used to, they begin to miss the simplicity of the 1.0 machine.
Getting away from the DRM headache, this machine brews a mean cup of coffee in under a minute. This is a time-tested machine that continues to work day after day. Avoid the 2.0 DRM headache altogether and stick with a design that already works; a Keurig 1.0 machine.
Conclusion
Nothing was wrong with the original Keurig machines; in fact, they were so popular that demand flooded the market, and third-party knock-offs answered. There is nothing wrong with third-party machines. Think of it this way. Keurig came up with an idea that sold well. Other coffee makers expounded on that idea, making it better. The third-party machines are made by some of the biggest names in coffee machines. It is almost as if they collaborated to make an idea better. In today's competitive market, an idea that has the input of thousands of people is far better than one person's idea alone. In fact, that is what creative collaboration is all about.