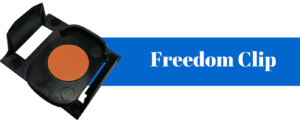 What is the Freedom Clip and how does it work? The Keurig Freedom Clip claims to bypass the built-in limitations of Keurig 2.0 machines.
Keurig makes a wonderful little machine. Their first machine, the B2000, was introduced in 1998. It took an entire industry by storm, and soon people began to view Keurig as a part of their regular daily routine.
Keurig came out with new brewing technology in 2014 called "Keurig 2.0 Technology." According to Keurig, this was done so that the machine can read the inserted K-Cup and adjust the settings automatically to give you a higher quality cup of coffee.
People who have purchased Keurig 2.0 machines found they were no longer able to use their favorite cups of coffee. Instead, they were directed to Keurig Customer Service, where they were given alternatives to their favorite coffee. These "alternatives" were all officially branded by Keurig.
This upset several companies, who felt they were systematically being driven out of business as customers were forced to purchase Keurig branded coffee pods instead of their own just to get the machine to work.
Some of these companies decided to outsmart Keurig by figuring out what gave the Keurig brand cups the ability to work on those machines. The secret is out, and people who purchased machines with Keurig 2.0 Technology have been given the freedom to brew once again their favorite coffees at will.
One of these companies is the Rogers Family Company.
The Rogers Family Company is a family of coffee roasters. They opened their doors in 1979, and since then has successfully owned and operated a true-to-the-heart family business. Their brand, San Francisco Bay Gourmet Coffee, comes in several different flavors, creating a staple in peoples' homes and offices.
When Keurig came out with their 2.0 technology, the Rogers Family answered with the Freedom Clip. They have identified the "special ink" Keurig used on their brand of K-Cups and replicated its function in the 2.0 brewers. This clip allows you to take any K-Cup on the market and make it compatible with the Keurig 2.0 machines.  Here's our Keurig Freedom Clip review.
What to Expect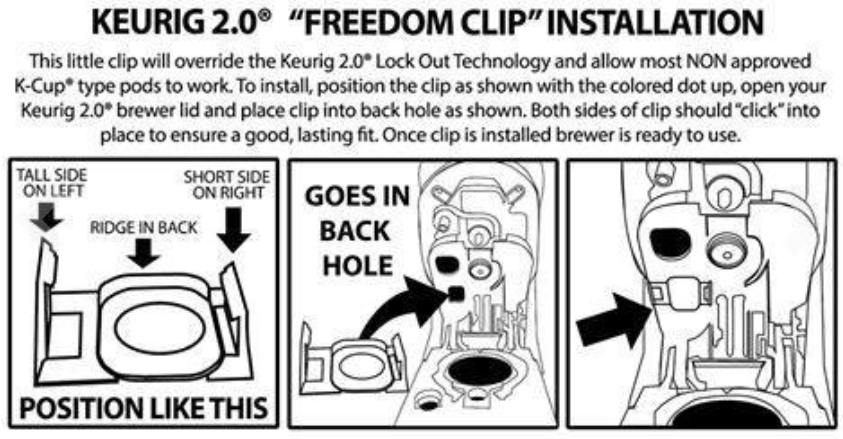 The clip is a small piece of plastic that will "clip" into your Keurig 2.0 machine. By inserting a K-Cup—any K-Cup—the machinewill read it as an officially branded K-Cup and allow its use in the machine. Previously, only Keurig branded K-Cups could be brewed in the new 2.0 machines.
The Freedom Clip is only available in specially marked packages of San Francisco Bay coffee. It was made and designed by the Rogers Family and is their product.
The clip never comes out of the coffee machine. It is "clipped" over the optical reader that reads this "special ink". Once installed, you are free to use this machine just like the previous 1.0 machines. Pop in any brand pod and enjoy a cup of coffee.
What Others Have Said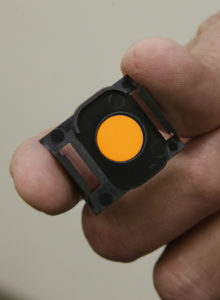 The Rogers Family Freedom Clip has earned them national attention. While it may serve to frustrate Keurig, consumers are more than happy to discover they can go back to their preferred coffee.
People are not very receptive to change; especially forced change. Coffee is a staple of America on a very personal level. There is a saying that goes something like this: There are two things a man has that you never want to mess with. One is his family. The other is his wallet. Abide by these rules and you can make a friend out of anyone. Allow me to take this one step further with a warning: don't mess with people's coffee.
Most people, as I have observed, aren't too picky about what coffee they drink so long as it is genuine coffee. Others can be feisty and picky about exactly what coffee they find acceptable. People in both groups, however, don't like having a brand or preference forced upon them.
The Freedom Clip does just that; it gives you the freedom to pick whatever K-Cup brand you want. It even works with refillable pods.
What to Watch Out For
There is very little to be aware of when using this clip. You need to install it correctly for it to work. Keurig advises against its use but comments on it differently. Sandy Yusen, a spokesperson for Keurig, refuses to comment directly on the Freedom Clip, but instead says it is a testament to the popularity of Keurig's 2.0 machines.
There is some debate on which K-Cups are compatible with it. The measurements for 2.0 K-Cups are different from the previous 1.0 K-Cups. This is apparent in Keurig's own refillable pod, only compatible with 1.0 machines.
Expect a bit of trial and error when installing this. It may take a few tries to get it just right where you are comfortable using it, and it works for you.
Buying Advice
The Freedom Clip is available for free, but only on specially marked packages of San Francisco Bay coffee. One of the products belonging to San Francisco Bay is OneCup. The Rogers Family says they will ship you one free Freedom Clip in every trial size OneCup coffee purchase. There are eight different varieties, including French Roast, French Roast Decaf, Pumpkin Spice, and Organic.
Freedom Clip Alternatives
There are other alternatives to using the Freedom Clip. One of our favorites has to be from
EkoBrew
. Take this little guy, put your own coffee into it, close the lid and insert into your Keurig 2.0 machine. Less than a minute later, you have fresh coffee without any environmental waste. We suggest you purchase one or two for every coffee drinker in the house. Make your cup of coffee, switch brew cups, and your partner can make their cup of coffee. The technology that disables other K-Cup brands can be duplicated using these
Freedom Stickers
. Take this tiny sticker and place it on the top your K-Cup. It fits very carefully on the rim. With this one, you need to read and follow the instructions. When you insert the K-Cup into the machine, the sticker needs to be in the nine o'clock position. This means when you are looking at the K-Cup, the nine o'clock position is on the left side of the rim when you pop it in the machine. Follow these instructions and the 2.0 machine will not know the difference.
Conclusion
America has a love for coffee implanted so deep nothing can get rid of it. Keurig created a fantastic technology with single-serve brewing machines. Americans will not be denied their favorite coffee. The Freedom Clip is proof of "where there's will, there's a way". There is an important marketing lesson to be learned in all of this. Don't deprive America of choices. Choices are our own personal way of exercising freedom. If America is denied choices, good old American ingenuity will find a way.