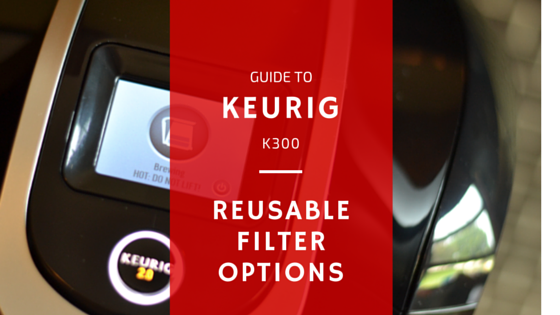 The Keurig K300 is a sweet little machine, isn't it? It has a touch screen, customizable options, and can brew both single cups and carafes of coffee.
However, what you didn't expect was the idea that you would be forced to buy certain brands of coffee for it to work, right? You want options. You want alternatives. You want freedom—freedom to choose, freedom to brew, and freedom to drink whatever coffee pleases your palate.
You're in luck. The
keurig k300
reusable filter designs are plentiful. I'm going to bring you some of those options, tell you what they are, and what makes them stand out from the crowd. All the information you thought you needed to find out on your own is right here, all in one place.
Keurig made famous the single-serve machines. Some of these are sized for a single cup of coffee while some are sized for carafes. This is an extra purchase—the K300 series don't come with a carafe. Truth be told, the idea that your Keurig can even brew carafes of coffee is taking a while to catch on.
Let's get started, shall we? We'll start with some single-serve options and move on to reusable carafe options.
Single Cup Filters
Eco-Fill 2.0 Deluxe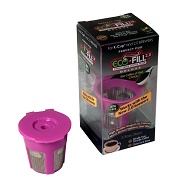 Perfect Pod is making its way through the ranks. Not satisfied with being a third-party 'off-brand', they are quickly becoming the first choice for many consumers, thus qualifying them the 'name brand' status quo.
This design uses two materials—stainless steel encased in a pink chassis. The pink color makes it easier to clean thoroughly and get every last coffee grind from every nook and cranny. If you wanted to ensure a good clean, then you'll be happy to know that these are top-rack dishwasher safe.
This works innately with your Keurig 2.0 machine, no modification needed. You do need to position the hinge in the three o'clock position to make it work, but it will work with no issue.
Ekobrew Refillable K-cup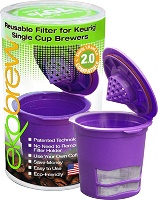 Ekobrew is another rising star competing for name-brand status. They have a proprietary design in the lid to disperse water more evenly than other reusable K-Cups. I've seen this one in brown, but more recently they are coming in pink for the same reason—it makes it easier to clean—plus they are dishwasher safe.
Ekobrew is the company behind Freedom Stickers. These are little blank orange labels you carefully place on the rim of the cup to fool the sensor.
It's a reliable system. Each sticker lasts through several washings and cups of coffee. By design, these stickers have an ability that others do not. You can place these stickers on incompatible commercial K-Cups to make them compatible.
EZ-Cup 2.0
Another hard-hitting player by Perfect Pod, these require a bit more to set up correctly. The K-Cup is a pod without a mesh filter. It needs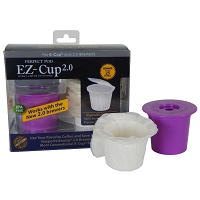 paper filters to be prepared ahead of time then inserted into the cup. The advantage here is for people who like to brew tea in their Keurig. Take a single-serve tea bag, set this inside the K-Cup, which goes into the machine, and you have a cup of tea brewed the same way as you do coffee.
The meshless design makes cleaning a breeze—they are dishwasher safe, and there is nowhere for little coffee grinds to hide, plus they stay in the paper filter. You need to follow the same instructions as the Eco-Fill 2.0 to get it to work—the hinge needs to be in the three o'clock position.
Carafe-Size Filters
Eco-Carafe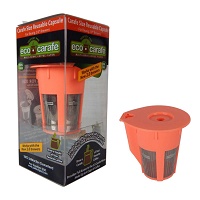 This Eco-Carafe is one of Perfect Pod's newest offerings in their reusable filter line: a carafe-sized filter! These are larger and require the removal of the K-Cup holder in your machine to fit. Carafes hold more coffee, which requires more coffee to make. Commercially-branded carafe-sized K-Cup costs are comparable to their single serving size—each cup will run you about 50¢. Carafes are perfect for busier families and even offices.
You do need to purchase a carafe to go with this one. Most machines are purchased for its single-cup capability and don't come with carafes. Another dishwasher-safe design.
As with Perfect Pod's other offerings, this one comes ready for the 2.0—no other modification is needed.
EZ-Carafe
This model, the EZ-Carafe, utilizes the same concept as the EZ-Cup 2.0. I'm from the south, famous for our Southern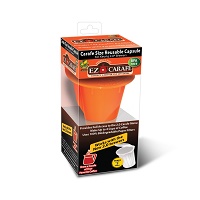 Sweet Tea. In fact, this is what I primarily use my coffee maker for—large batches of tea that I promptly refrigerate. If it's done right, it makes for a batch of nature's sweetest and most delicious nectar.
You'll need the 'family size' tea bags, but I find that one individual tea bag for every two carafe cups works just as well. Just insert the tea bags directly into the cup to make this happen for you. The tea bag itself is the filter—you don't need the coffee filters to make tea.
For coffee, you need the carafe-sized filters because this is a meshless design, just like before. Perfect Pod makes this one too, so you can be assured that it comes prepared for your 2.0 machine with no error code.
To clean it, rinse it off and hand wash or place it on the top rack of the dishwasher.
Conclusion
Keurig's machine is easily the most popular coffee machine of all time. People waited for what seem like an eternity for the reusable carafe-sized filters to arrive on the scene so they could take full advantage of their machine. They are here. Honestly, what is more satisfying in the morning than a hot cup of coffee? Do you have trouble falling asleep at night? With the EZ-Cup, brew yourself a quick cup of chamomile tea to calm your nerves. Any way you look at it, you're saving money in a tremendous way.