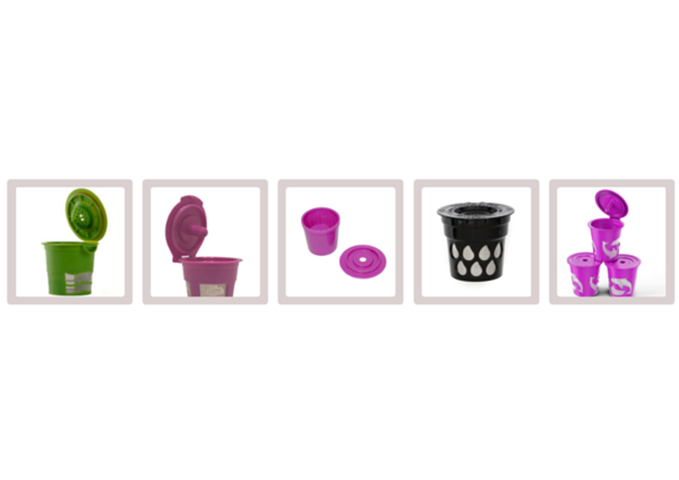 Back in 1998, Keurig made a little machine that revolutionized the way we make coffee. They did it again in 2014 when they made one of the most controversial moves in the world with their revolutionary 2.0 technology. It appeared the whole reason Keurig came out with this technology was for money. Keurig 2.0 brewers use a proprietary technology that will not allow you to use any other brand coffee than their own.
Officially, Keurig denied these claims. Instead, they claimed quality control was the reason behind the change. When you use the officially branded Keurig K-Cups, the machine would automatically select the best settings for an optimal cup of coffee. They quoted the science behind a great cup of coffee was consistency. The evidence is clear then: Keurig takes coffee seriously.
People quickly caught on to Keurig's DRM scheme. No longer are you held back and forced to purchase officially branded Keurig K-Cups. You have options that will keep your wallet lined with green and your cup filled with the caffeinated nectar of the gods, like these reusable K-Cups for Keurig 2.0 machines.
This is an awesome little beauty that will work its wonder with your Keurig two-point-oh. Without needing anything else, this little pod is deep, dishwasher safe, and passes the 2.0 test. Sure, we are all concerned with the environment, but we do not wish to change our habits…our vices. With this, you can do both. No plastic to throw away, no error message to stop you, the freedom of using any coffee or tea of your choice—how can you go wrong?
These cups are made from BPA-free plastic with a stainless steel mesh basket. One will run you $10.99, but become cheaper with the more you buy. We recommend the 4-pack because it will allow you to prepare them ahead of time. When you are ready, take one out, pop it in, and you are all set. If you prefer a filter for a finer grind of coffee, these cups are compatible with Ekobrew paper filters.
This cup does not come prepared for the Keurig 2.0. The box includes instructions on how to install the included "freedom sticker" so that it will be compatible with the 2.0 machines.
Ekobrew is not compatible with B/K 30, 130, 150, 145, 155, Mr. Coffee BVMC-KG5, Vue or Hamilton Beach Single-Serve machines.
This is another one much like the Ekobrew one. It is plastic, with a hinged lid and stainless steel basket. This one is good if you like the strong espresso brew! What makes an "espresso brew?" Espresso has to do with the size of the grind. Typically, coffee beans are ground to a size a little smaller than a grain of rice. The pre-ground coffee you buy at your grocer has a preset grind size perfect for traditional coffee makers. Espresso coffee is ground much smaller—almost like a fine powder. The smaller size brews a much stronger coffee than an average cup. "Espresso" is not necessarily used to denote a coffee grind size, but instead is used to indicate the strength of the coffee itself. This pod is perfect for espresso if you insert an EZ-Cup disposable filter first. Otherwise, the grinds would go right through the mesh and into your coffee—not a good thing. What is good is the compatibility with EZ-Cup disposable filters—an option if you like espresso.
The plastic is BPA-free and dishwasher safe. One of these will cost you $14.99, but will pay for itself when you find you do not need to purchase K-Cups anymore. Two-step instructions included: fill with your favorite coffee, close the lid and brew.
You need to read the instructions with this one. There are two possible ways to insert the cup into the machine. Only one of them will work. The hinge needs to be in the nine o'clock position and the open clasp at the three o'clock position. By positioning it like this, the cup will pass the optical sensor and the piercing needle at the bottom will not pierce the filter.
This cup will only work with K300, K400, and K500 series machines.
Perfect Pod did it again with EZ-Cup 2.0 (they are the makers behind Eco-Fill). The design is a bit simpler but stable. It does not have mesh at all. Instead, it is a solid, one-piece design that requires filters. I did mention that the Eco-Fill was compatible with these filters (the same company made them), but while they are optional with the Eco-Fill, they are mandatory with EZ-Cup 2.0. The process is very much the same: insert a filter, add your coffee, close the lid and brew. The pro side says the cup stays cleaner: there isn't a mesh filter for coffee grinds to get stuck. The con side is you'll need to keep a continual stock of filters on hand.
Perfect Pod claims an 80% savings over commercial K-Cups. The pod is BPA-free and safe to run through the dishwasher. This will put a $14.99 dent in your wallet, and it comes with an initial stock of 25 filters.
This has a sensor built into the lid of the cup, allowing its use in Keurig 2.0 machines without any user modification (like stickers).
This works with the K200, K300, K400, and K500 series, and all older Keurig 1.0 machines.
Well doesn't this one look all fancy! The plastic with a stainless steel mesh pod sports a lovely dolphin motif. This is a one piece design, which means the lid is not a separate section. If the pod falls on the floor, the top will not break off. The design feels a little thinner, but the price makes up for it. This is the complete package; this purchase is all you need to make that perfect brew.
PureJava might have made one of the most versatile cups on the market with this one. The list price is $25 for three of them, but they are currently on sale for $14.95 on Amazon. That puts each filter below $5 each. Each pod is BPA-free and safe to run through the dishwasher.
These are compatible with Keurig 2.0 DRM so long as the instructions are followed. Keep the rim of the cup clear of coffee grounds and place the pod into the machine with the hinge toward the back. When you close the lid of the machine you'll find that it passes the 2.0 scanners.
These pods are compatible with these 2.0 models: K200, K250, K300, K350, K360, K400, K450, K460, K500, K550, and K560. They are also compatible with any older Keurig, Mr. Coffee, Breville etc., coffee makers that use K-Cups.
Other than the stainless steel mesh basket and plastic container, what caught my eye is the lid. Almost every reusable K-Cup has a design in their top to disperse evenly the water in the K-Cup, maximizing its potential to use all the grinds in the cup. However, this one has a stainless steel drain on the lid. I can imagine why. Plastic melts at high temperatures. That is not to say plastic K-Cups will melt in your machine, but as hot water touches the plastic, it gets soft. You might not notice the first 100 times you use it, but it will eventually break down. This one is designed for the hot water to hit metal first, not plastic.
The instructions with this one are very specific; any deviation will make the Keurig machine think the pod is incompatible. We had to try it a few times to get it, but once we did, it worked like a charm. Others have reviewed this product as not working at all with the proprietary Keurig 2.0 technology.
The design has more metal and less plastic than other designs, indicating that it might have a longer life than some others. 100% BPA-free and dishwasher safe.
These cups come with a complete set of instructions that differ from model to model. If you have a K200 series machine, this pod will not work. If you try to use this without reading the instructions for your model, it will not work. Mind the instructions. They are different for each model.
Compatible with K300, K400, and K500 series machines. Will not work with Keurig K200 series.
Conclusion
If you are the proud and awesome owner of a Keurig 2.0 machine, consider these options for making your own custom strength, custom blend, and custom cup of coffee. They will more than pay for themselves over commercially branded K-Cups. There's one thing left for you to do. Go. Brew yourself the best cup of coffee you've ever had.