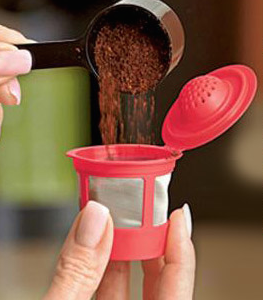 Keurig made popular one of the most attractive small office/home office coffee machines on the market today. Their machines allow you to brew coffee for one without wasting coffee, buying filters, or in some cases, even waiting for the coffee to be brewed. The Keurig machine has one drawback: the consumable coffee cups that make this device attractive are expensive! Coffee is one of the most popular drinks on a global scale, and the convenience of this machine makes your coffee more expensive than you might expect when compared to traditional coffee machines. Lucky for you, the market is full of K-Cup alternatives designed to keep more cash in your wallet. When you find yourself asking "What Is The Best Reusable K-Cup?" the reviews below will be a great help. Each link leads directly to the product on Amazon.com so you can make your judgment call.
This one gains points for saving money but loses points in usability. People love the idea of being able to brew their individual cup of coffee. Keurig originally answered the call by coming out with their reusable filter for their machines in the first My K-Cup. Keeping brand-specific with accessories like this one is what companies want; you are usually rewarded with a smoother, more seamless experience. They did have problems with the original one, but this newer version seems to address the problems of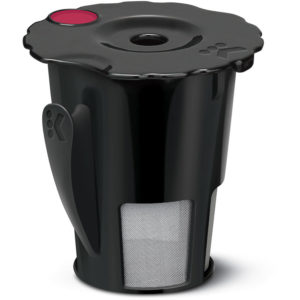 the first K-cup. One of the previous issues mentioned how the small puncturing needle machine was damaging the K-Cup lid. However, in this newer version, this problem is eliminated as the lit has a built in space for the needle itself. Many people also seem to be happy with the filter of this K-Cup but claim that it does not eliminate powder residue, especially fine ones. Some of these coffee grounds get stuck in the mesh filter as well but are said to be easier to clean still if cleaned immediately. One of the biggest complaints on the current 2.0 K-Cup seems to focus on the compatibility. Despite claiming that this item compatible with Keurig 2.0, it seems many are claiming that they are getting a message that it does not fit the 2.0 and some are getting messages like "Not designed for this Unit Message." Many share the hassle of trying multiple times before it is finally brewed. Overall, buyers are much happier with this new version compared to the original one, saying it is a big improvement. However, if you do not have the patience, for dealing with some of the said problems, then you might want to check a different one.
Will Work In: Keurig home brewers Will Not Work In: Keurig 2.0 Series
The design flaw apparent in the Keurig branded reusable filter appears to have been solved by the Brew and Save Refillable Single-Cup reusable coffee filter. The filter does not leak, so coffee grinds do not end up in your cup of coffee. This appears to make the transition from commercial K-Cups to a reusable filter smooth and painless. It is not without its flaws, however. Keep an eye on the size of the coffee bean grind. Espresso-size grinds—the finest—will clog your machine, leaving you with two ounces of coffee, while the larger grinds tend to leave you with a weaker coffee than you are used to. Standard pre-ground coffee tends to be too large, so you'll have to experiment with this one. In terms of saving you money, this reusable filter is as good as any. If you have several morning coffee drinkers in the house, we recommend keeping several of these on hand. Will Work In: Keurig 2.0 K300, K400, K500 Series of Machines and most Keurig 1.0 Single Serve Brewing Machines. Will Not Work In: B/K 30, 130, 150, 145, 155, Mr. Coffee BVMC-KG5, Vue or Hamilton Beach Single-Serve machines.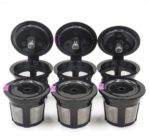 Another reusable filter compatible with Keurig 2.0, this boasts both the best design and a solid price. The plastic is BPA-free, but then again, most food-grade plastic marketed today has this label slapped on there, hoping to make their product stick out. The basket is made of stainless steel mesh for durability. The biggest feature where points are taken away has to do with the size of the mesh. If the mesh is too fine, water has a hard time going through it, leading to a longer than expected wait time for a cup of coffee. Will Work In: Keurig 2.0 Brewer (K300, K400, K500) and all Keurig 1.0 Brewers. Will Not Work In: Any machine not listed above.
If you are not worried about fancy bells and whistles, this is the one for you. This is the most fundamental design, using materials that are just strong enough to hold it together. This is by far the cheapest design, sitting at $7.00. The unit utilizes plastic mesh, which will end up breaking down after a few months of uninterrupted use. People either have a horrid experience or an excellent experience with it. Their products have specific design specifications, allowing their use on individual models of the Keurig brand of machines. We had no issue with it; we just had to pay attention to the particular model for which the filter was designed. Will Work In: K10 K45 K55 K65 K75 Platinum Plus. Will Not Work In: Any machine not listed above, including the Keurig 2.0 machines.
This coffee filter boasts a stainless steel mesh design for added durability instead of the standard plastic mesh that people have grown accustomed to, although the casing is still plastic. If you are used to the first Keurig machine, then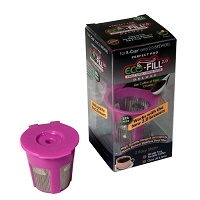 one thing you'll need to do when you try the Eco-Fill filter is read the instructions. If you put it in the same way as the old machine, you will get the dreaded error message associated with the Keurig 2.0 machines telling you to use officially branded products. This is overcome by inserting the filter the proper way. This one is pricier than some, sitting at $14.99 for one filter. The stainless steel basket is one of the most attractive features as it will not break down after a few months like the plastic mesh ones will. If you like a smaller grind of coffee, you may use the Eco-Fill with EZ-Cup disposable filters. Will Work In: Keurig 2.0, K300, K400, K500 Series. Will Not Work In: Any machine not listed above.
The Award Goes To…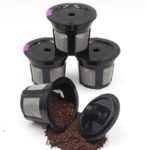 For the best filter, I would have to recommend the Keurig 1.0 & 2.0 Reusable Coffee Pod Filters for Keurig K-Cup Brewers 2.0. It has a higher number of reports saying that it works with the Keurig 2.0 than My Cup 2.0. It did an excellent job of holding the ground coffee great, without causing too much residue. Although being pricier than others, it's stainless steel basket durability and almost perfect fit with Keurig 2.0 as well as performance are truly commendable which is definitely what you are looking for in a filter. The My Cup 2.0. comes to close second despite its usability setbacks.