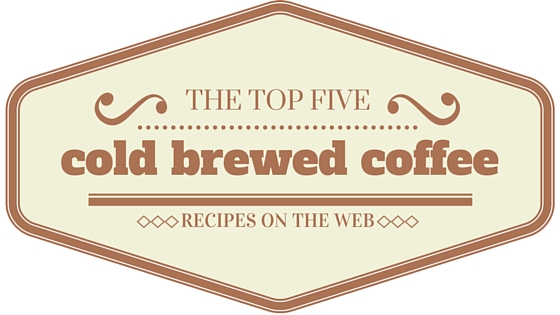 You've probably heard: cold brewing is all the rage in the coffee world. While this method sounds bizarre, coffee enthusiasts will assure you that it is actually quite good. The long seeping of the grounds in cold water allows the coffee flavors to develop without releasing the heat soluble acids. This creates a coffee "concentrate" much like that of an espresso, but without all the bitterness. However, some people have been confused about exactly how to make the perfect cold brew concentrate. So for your convenience, I've gathered 5 of the internet's best recipes!
Toasted Marshmallow Iced Coffee

Ingredients:
8 oz whole bean coffee
3 quarts cold water (preferably filtered), and 1 cup water
1 cup white sugar
1 cup light brown sugar
2 teaspoons Vanilla Extract
1 1/2 cups heavy cream (can also substitute w/ other dairy or almond milk)
Marshmallow Creme
Method:
Grind coffee beans to medium-fine. Place the 3 quarts cold water and ground coffee in pitcher and stir to combine. Let sit at room temperature overnight.
See full recipe here
Easy Iced Caffe Latte

Ingredients:
2 tablespoons espresso (as prepared from above ingredients)
1½ tablespoons (or more to taste) sweetener (sugar, honey, agave nectar)
¼ cup half and half
1 cup milk (cow's, soy, coconut, or almond)
1 pump flavored syrup (if desired, reduce sugar accordingly)
6 – 8 ice cubes
Method:
Combine the prepared espresso, sweetener, half and half, milk, and ice cubes in a blender. Blend until the ingredients are completely mixed. Pour into glasses and serve with whipped cream, if desired.
Original Recipe here
Nutella Cold Coffee

Ingredients:
4 tablespoons Nutella

2 cups chilled milk (I used low fat)

3 tablespoons condensed milk

2 teaspoons instant coffee powder (I used Nestle)

3 teaspoons vanilla essence

3 teaspoons sugar, or to taste

½ cup ice cubes
Method:
Combine all ingredients in a blender and blend until smooth and frothy. Pour into glasses and dust lightly with ground coffee, if you like.
Check more here
Cold Brew Coffee

Ingredients:
10 ounce ground coffee
5 1/2 quarts cold water
Method:
In a large plastic lidded container mix coffee grounds and cold water. Cover with lid and let stand at least 8 hours or overnight. Line a mesh sieve with a coffee filter and place over batter bowl with spout. Ladle coffee ground mixture into lined sieve, small amounts at a time, straining the cold brewed coffee.
Read Twist to this recipe here
Iced Coffee Concentrate

Ingredients:
1 gallon water (I buy a gallon of drinking water)
1 lb bag of your favorite rich coffee (course ground if ya can get it)
Coffee filters or several layers of cheesecloth
a fine mesh strainer.
a large bowl
pitcher (big enough to hold a gallon)
Method:
Pour gallon of water into your large bowl. Dump the entire bag of coffee into the water/bowl.
Check Full Recipe here
All of these recipes are quite simple; the most basic trick to making fantastic cold-brew is to allow your coffee to steep at least overnight. If you want a stronger taste, then steep it longer. While this method may not give you as quick of a cup as a drip maker, the quality is well worth the wait. You'll be surprised what a smooth (and stomach-friendly) cup of coffee the cold-brew method makes. Not to mention, cold brew concentrate is great for getting creative with your coffee. Unlike hot brew, which gets bitter when chilled, cold brew can be used in everything from iced lattes to coffee flavored ice cream! Whether you like to get adventurous with your coffee, or you just prefer the smoother taste, the cold-brew method is the better option. Give these recipes a try or come up with your own perfect combination!