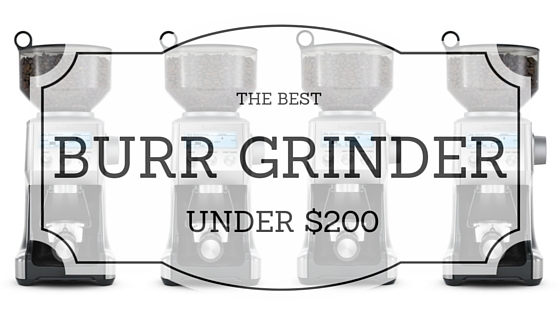 Coffee enthusiasts say a burr grinder (or burr mill) is a much better option than a blade grinder for capturing the natural and rich flavors of roasted coffee beans. Burr grinders give greater evenness of ground with their pair of rotating abrasive surfaces, resulting in uniformity of flavor extracted from the coffee grounds. Burr mills also produce less heat than their bladed counterparts, meaning less loss of flavor and aroma during grinding.
We have selected and honestly reviewed the top 5 products to determine which is the best burr grinder under 200 dollars. We combine product specifications with a summary of helpful user comments for each item. These 5 contenders can all be found on Amazon.com.
Cuisinart Programmable Conical Burr Mill
This burr grinder is fully programmable with a hopper that holds up to half a pound of beans. It also boasts a 1-14 cup selector so you can grind just the right amount of coffee every time. Some of its other features include:
18 position grind selector – ranging from ultra-fine to extra coarse;
easy to read LCD display showing time, fineness and number of cups;
removable grind chamber;
heavy duty motor and cord storage
What Users Say
Some users mention that the unit tends to be messy due to a static build-up. Others are of the opinion that static is an issue with all burr grinders and this one is not very messy and relatively easy to clean. The general consensus on the Cuisinart Programmable is positive, highpoints being that is easy to use, low on noise and gives a consistent grind.
Capresso Infinity Burr Grinder
The Capresso Infinity is constructed with commercial grade conical burrs to extract maximum flavor and aroma from coffee beans. Its bean container holds up to 8-1/2 ounces, while the ground container holds 4 ounces maximum. Other features of the Capresso Infinity include:
16 grind settings – four each for extra fine, fine, regular, and coarse;
easy to clean – the bean container and upper burr lift off to allow cleaning of the grinding chamber;
heavy-duty zinc die-cast housing;
built-in timer that runs for 5 to 60 seconds so you can set the grind and walk away
What Users Say
Users of the Capresso Infinity rave about its extra fine setting and the fact that it does not clog easily. They also like the consistency of grind it produces, how easy it is to clean and its low noise level. The general consensus here is that it's a great value for the listed price.
Bodum Bistro Electric Burr Coffee Grinder
The Bodum Bistro Electric comes to you with 14 continuously adjustable coarse to fine grind settings and a Borosilicate glass catcher that reduces static and messy, jumping coffee grounds. Other notable features of this grinder are:
timed grinding and a quick grind button;
tight no-spill silicone/nylon lid;
slip-proof silicone band on the glass container;
made of borosilicate glass, steel, plastic, rubber and silicone
What Users Say
Users like the look of the Bodum Bistro Electric, its range of functionality and how easy it is to use. Some were a bit put off by the materials used in its construction and reported that their grinder wore out much quicker than they anticipated. Another concern was that the grinder should rest for five minutes after just 20 seconds of use. The general consensus here is that the Bodum Bistro Electric could prove to be a good buy if not rigorously used.
Baratza Encore – Conical Burr Coffee Grinder
The Baratza Encore has 40 individual fine to coarse grind setting and a front-mounted pulse button for easy grinding. Its hopper has a capacity of 8 ounces and you may purchase hopper extenders to increase the volume by increments of 9 ounces. Here are some of the Baratza Encore's other features:
efficient DC motor keeps the beans cool, while reducing noise, heat and static buildup;
burr calibration system – grinders can be calibrated by user;
transforms into a ground-by-weight grinder with a purchased accessory;
easily removable burrs for easy cleaning
What Users Say
Most users liked the small but sturdy build of the unit and the low noise during operation. Many felt it functioned well, doing as advertised, especially if you stick to grinding small amounts at a time. Some users, however, found the unit too messy, difficult to clean and did not allow for efficient change from one bean type to the next. Though the reviews for the Baratza Encore were quite mixed, the general consensus seems to be that it can be a good grinder to own if you're not overly fussy and don't mind the mess.
Breville Smart Grinder
The Breville Smart falls just under the 200 dollar limit and is designed with 25 grind settings. Its bean hopper comes with an airtight lid, holds a full pound and can be easily removed from the grinder base to store unused beans. Other features of the Breville Smart include:
backlit LCD screen showing grind setting, number of cups or shots and the customized grind amount;
auto "Dosing IQ" system that calibrates each adjusted dose;
included accessories – two portafilter cradles, grind container and burr cleaning brush;
"Smart Grinder" allows manual adjustments to the preset amount calculated by "Dosing IQ"
What Users Say
The vast majority of users seemed to think the world of this grinder, saying it's user-friendly, precise and efficient. They were keen on the low noise level and lack of mess. Bad comments came about either the style of the grinder or getting a unit that stopped working prematurely. The general consensus here is highly positive and it seems this unit is a great buy, worth the extra cash.
Conclusion
Burr grinders are often considered superior to bladed ones, but not all are created equal. Taking the time to sift through the pros and cons of different models, may make a world of difference in the taste of your next cup of coffee.