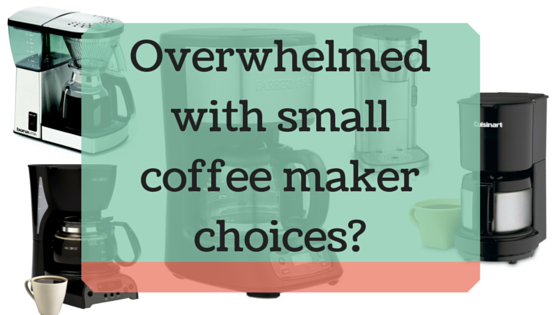 So you're looking at coffee makers, and you don't want some huge 12-cup coffee maker right? For many people, that might be overkill, especially if you're in an office with one or two people or if you're the only coffee drinker in the house. That's like buying a 12-passenger van when all you need is a small car. If this sounds like you at all, then you're in luck. There are lots of small coffee makers that will deliver coffee on time and under budget.
The value of small coffee makers is underrated. I would much rather have fresh coffee than not, wouldn't you? If you're the only one drinking coffee, I would like to think that you would much rather like making a fresh cup when you need it over making a large pot now and drinking stale coffee later. That's the idea behind these coffee makers. Hmm…now that I think about it, that's the idea behind owning a coffee machine in the first place.
Consider these small coffee makers and the one to fit your needs. We carefully picked this list of top rated small coffee makers, ranging from a single-serve maker to one with an eight cup capacity. Bon appétit!
Top Rated Small Coffee Makers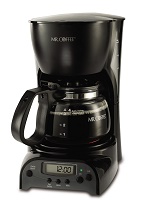 Mr. Coffee takes his name seriously. This bad boy takes some of the best features of larger, more expensive coffee makers and shrinks it down to size. It's black, small, sleek, and can brew coffee relatively quickly (3 – 5 minutes, tops).
Programmable means it has a digital clock that will allow you to program a delay in the brew. That enables you to make your coffee the night before and have it ready for you when you wake up. And if it's not done brewing, just remove the carafe from the machine and pour your first cup. Your machine will pause in the middle and seamlessly pick up right where it left off when you replace the carafe. The removable filter basket and carafe are dishwasher safe.
Keurig is credited with bringing single-serve coffee makers to the market. However, they are far from the only brand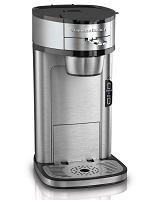 out there. Hamilton Beach brings you this small stainless steel appliance that works just like a traditional coffee maker, but allows you the convenience of never having to wash a carafe. Put your cup directly on the drip plate (where a traditional carafe might go), and it'll make your coffee, right in your cup!
This maker will accommodate tall travel mugs (up to 14oz.), as well as not-so-tall mugs. Its operation is quite simple. Lift the lid, take the filter basket, which doubles as a coffee scoop, and scoop up coffee. Return it to the coffee maker, add some water to the reservoir, and press the "on" button. Well, actually, press one of the two "on" buttons—this option allows you to control the strength of the coffee, either regular or bold.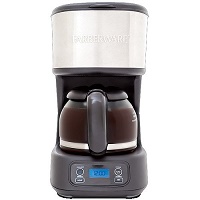 I've heard people brush off Farberware as a WalMart store brand. I'm the first one to correct them – I own an excellent coffee percolator from Farberware, and I didn't get it at WalMart. Farberware is excellent for making appliances affordable, simple, yet elegant enough to add features that you see in some of the most expensive brands. This is one of those cases. Don't let anyone tell you differently.
The black with stainless steel accents isn't even its best feature. This one is programmable, allowing you to program the maker to brew a pot when you're ready, and not a second before. It features an attractive backlight, making the clock visible in the dark.
The best feature is how you program it. With most coffee makers, when you program it, you need to calculate the brew delay by a number of hours. For example, if you go to bed at 11:00PM and wake up at 6:00AM, then you would delay your brew by seven hours. This one sets an actual time on it—it doesn't matter when you go to bed. It matters when you want the coffee to be made. Set the time and you're all set.
Bonavita certainly does have a knack for saying something like, "I'll make my OWN design, and it'll be awesome!" Then when they do that, and someone comments on it, Bonavita replies, "Well, I DID, and it's awesome!" Bonavita did just that. The design is unique while still sticking to the fundamental principles of what makes a good cup of coffee. The reservoir sits on top, making it easy to stick your hand in and clean it when the time calls for it.
Bonavita claims a 1400W water heater that is precisely engineered to bring the water to a perfect temperature. Furthermore, water contact with grinds has been engineered to happen at just the right time for the perfect cup of coffee. Their showerhead design allows the water to grab every last drop of "coffee extract" from your beans. This one is the largest coffee maker to make it on the list, but you wouldn't know it because the machine is so…small! It seems Bonavita thought of everything to make a perfect cup of joe!
Ah! Cuisinart does it again—almost. There is one feature of this that isn't quite what I like, but the rest more than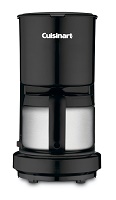 makes up for it. This is as easy as it gets without being operated by a switch. If a coffee maker is designed with a power switch, it means it won't come with an auto off feature—but that's okay because this one does! It will shut off automatically after 30 minutes, guaranteeing you that you won't end up with burnt coffee.
The only thing I do not like is the stainless steel carafe. I hear you asking "But why? Stainless steel carafes add such a nice touch to the black!" If you said that, you would be right. Most stainless steel carafes are thermal, and this one isn't—it's kind of misleading at first sight. Here's the good thing—if you drop it, it won't break! Besides, it does make it look good!
I might add that it comes in four different colors to suit your tastes.
I think the price should be the same no matter what color I might pick, but that's just me.
Conclusion
These are the best of the best from the small coffee maker category. Some are pricier than others, but each of them are small. Bonavita certainly has a unique design, which Mr. Coffee and Farberware offer programmable models. I hope I just made your research a bit easier by comparing five of the best coffee makers on one page. For more comparisons, check out this page here or even this one here.