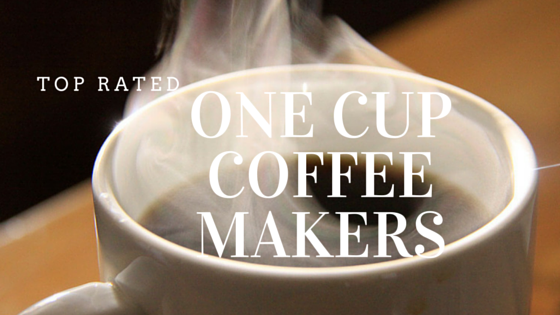 When you need an afternoon pick-me-up, you might find it not worth the effort to make an entire pot of coffee. It takes time you don't have and effort that is better spent elsewhere. Plus there is the high possibility that you'll waste coffee, and afterward you'll have fresh dishes to clean up. In whole, most of the process is unnecessary when all you want is one small cup of coffee.
Fret not, my friend. We have you covered. There are several single-serve coffee makers that will get you exactly what you need when you need it.
Although Keurig dominates this "one-cup" market, they are far from the only option out there.
We've tested several ourselves, and decided to bring you this list of top rated one cup coffee makers. It doesn't matter if you're looking for style, simplicity or if you want a "glorified alarm clock", as one reviewer stated, I guarantee each of these will make just the cup of coffee you're looking for.
You had to know about this one, right? This is one of the final Keurig 1.0 models that they came out with before their
2.0 systems
made their debut. This one is the embodiment of everything that made the original Keurig system so great. With a 48-ounce water reservoir, this machine is one of the pricier single-serve machines, but then again it's a Keurig. It brews K-Cups, both prefilled commercial K-Cups and refillable, reusable filters.
It doesn't get any easier than this. The machine is ready to brew on a moment's notice. Just ensure that there is water in the reservoir, insert your K-Cup, and press one of the brew buttons. In less than one minute flat, you have a hot cup of that pick-me-up juice whenever you feel the need.
The only thing better than a Keurig 1.0 coffee brewer is a Keurig 2.0 brewing system! This provides the best of both worlds: Keurig combined their single-serve technology with the ability to brew carafes whenever the need arises. In every coffee-drinking household, there is always someone who drinks more coffee than the rest. That's who this brewer is perfect for. Before everyone leaves for the day, brew your carafe (the Keurig way, of course!), and when that afternoon slump hits, brew a single cup just for you! Each brew will be hot, fresh, and ready when you are.
This one has a touch screen, programmable clock, and auto brew features. If you find yourself needing just one cup of coffee, might as well do it in style, right?
For some people, brewing a carafe is not as convenient as it's made out to be. With several different "gourmet"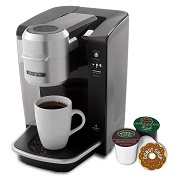 flavors, trying them all in a shared carafe can prove to be a difficult task indeed. Most times, you have to agree to disagree and use the basic medium roast coffee you buy in bulk. If you want unique flavor, there's always different flavored creamers.
With this, everyone in your household who drinks coffee can enjoy the flavor they want without compromising. Each cup brews in one minute or less with no paper filter or coffee grinds to throw away.
This is from Mr. Coffee but made with Keurig technology. It is licensed by Keurig to brew K-Cups, which makes it perfect if you want just that one cup of coffee. It doesn't matter if you want to use officially licensed K-Cups or not. As long as you don't force the lid closed, and the K-Cup fits, brew to your heart's delight. This machine is completely compatible with reusable filters, allowing you to use that unique flavor you picked up at Starbucks.
This one doesn't use K-Cups. In fact, the built-in filter basket looks and acts just like a traditional drip-style coffee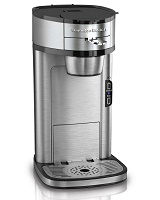 maker. The handle of the filter sticks out of the machine, but it's not awkward. In fact, it's quite intuitive. It's a beautiful, yet simple device.
Flip the lid, take the filter by the handle, and scoop up your coffee. Replace the handle, put your mug on the drip tray, and press the brew button. It's almost like they upgraded the traditional coffee maker by making it simple to fill with coffee beans and water, and thereby they made process simple.
Some people don't like reusable filters—they would rather have paper filters to toss because it makes the cleanup easier. That's okay. If that's the route you want to take, there's no reason you can't. Put a paper filter in before you scoop your coffee and brew away.
The makers of this coffee looked at the way we made coffee and decided to make the most minimalist design conceivable. The quirky thing about this one is the fact that it comes with its own specially-sized 12-ounce mug to complete the ensemble.
The idea is very basic. Fill with water, fill with coffee, and flip the switch. It doesn't have an auto-off feature, but that's okay. The position of the power switch makes it easy and intuitive to flip the when you take your mug of coffee.
There is plenty of talk about how other coffee machines make coffee perfect for households with several coffee drinkers. What about the homes where only one person drinks coffee? Does that define you? Because this coffee maker is perfect for you.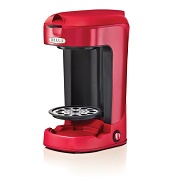 This is another intuitive design where the filter and coffee scoop are built into one. Furthermore, this also comes with its own mug that fits the coffee maker perfectly. As a single server, this maker will brew up to 14 ounces of coffee, tea, or hot water, perfect for soups or hot cereal.
With four colors—black, red, purple, and turquoise—this is perfect for that afternoon cup of coffee, or even at lunchtime when you need a quick bowl of soup to go with your coffee. Leave it at home or place it on your desk at the office—its small size is guaranteed to not get in the way.
Conclusion
Maybe you don't live in a house full of coffee drinkers, and you don't need some fancy-pants 12-cup coffee maker to keep up with everyone's needs. That's okay because these makers aren't for them. They're for you and only you. Make your coffee, how you want and when you want. You don't have to compromise with any of these makers, and most of them have a minimalist design promising you not only a hot cup of coffee but easy clean up as well.