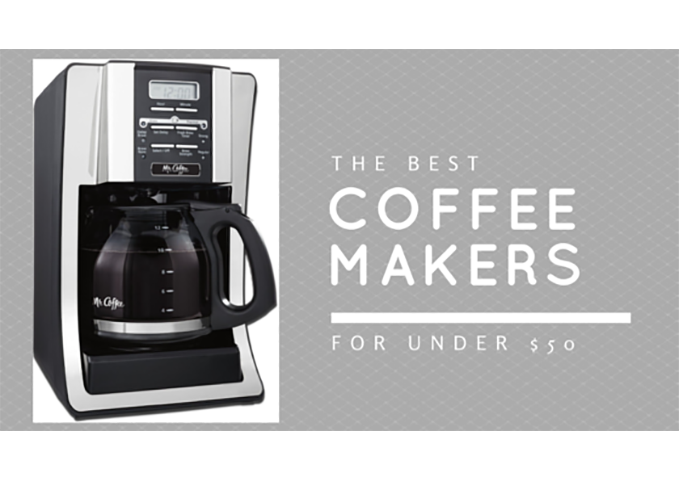 As time goes on, it seems money gets tighter. There's no doubt about it—we live in a very trying age. But that's what makes it so great. Adversarial challenges help us to grow. Sometimes, we're on a budget while others are masters at making their dollar stretch.
We don't think you should be sacrificing one of life's greatest pleasures because you don't want to spend over a quarter of a thousand dollars on a machine. Coffee machines can be pricey—we'll be the first ones to admit that. Whatever your reason for cutting back on exorbitant spending, we have you covered.
We hand-picked this list of the top rated coffee makers under $50 because they represent the best of their kind in under $50. They each make fantastic coffee and will serve you well without breaking the bank.
Mr. Coffee is a big brand in coffee makers. I have one myself, and it has served me well. For approximately 35 bucks, you can get a sleek, chrome-on-black, 12-cup programmable coffee maker with a water filter. It makes a full 12 cups in under eight minutes, comes out piping hot, and gives you the option of purchasing a thermal carafe. For now, it comes with a glass one. Other features include an auto-off feature, a cleaning cycle timer, and brew strength selector.
The digital clock is prominent right there, front and center. The programmable feature is guaranteed to save you time in the morning. Take 45 seconds the night before to set it up and in the morning, you'll wake up to hot, fresh coffee. By the time you wake up, get out of bed and make your way to the kitchen, your coffee will be ready to pour and enjoy. Seriously—just grab your coffee and go. The machine will turn itself off.
Don't let the 12-Cup design fool you. One of the great features of this maker includes a unique brew strength option
for 1 – 4 cups. Hamilton Beach isn't just in the home consumer market—they are also a prominent commercial brand.
You know, usually coffee makers that have a cone-shaped filter basket are reserved for a higher price range—but not here. Filters that feature the conical shape often have the ability to brew a stronger coffee because all of the water is guided towards a single point in the filter.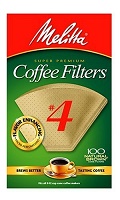 Science, baby!
That being said, you need to make sure you have the right filters on hand—this one uses Cone #4 filters. Other features include the clock, which adds the programmable feature saving you time in the morning, auto shut off, and a stainless steel design sure to compliment your kitchen. The carafe spout has an exclusive design made to eliminate any dripping that might come after you pour your cup.
Sometimes things just look better in white, especially if every other appliance you have in your kitchen is black. This is a switch coffee maker, with the switch being prominently displayed in the front. When it's on, you'll know—a little green light comes on alerting you to its presence.
This is a no-fuss coffee maker. Some people just don't want all the bells and whistles that seem to complicate a process that should be easy. We get you, and so does Mr. Coffee.
To make things even easier for you, the cord comes out of a recessed hole in the back of the maker, allowing you to store the cord when it's unused—or if you set it up on your counter, it will store the excess cord, keeping your counters neat and clean. The pause feature allows you to grab a cup of coffee while it's brewing and put it back without missing a beat (or making a mess!)
Ahh! The Black & Decker! We knew it would make an appearance at some point. After all, they make just about
everything, from power drills to lawnmowers, and…coffee makers, evidently. This made this list because it contains features only seen in higher-end brands and models of coffee makers.
The first feature you'll notice is the stainless steel carafe. That baby is double-walled for insulation, making it a thermal carafe. What does that mean for you? So glad you asked! It means the carafe will retain the heat of the coffee you just brewed—hours after you made it. No more old coffee, no more burnt taste, and no more wasting what would otherwise be perfectly good coffee.
Other features include the clock for programming a coffee start time, auto shut-off, pause function, and auto clean cycles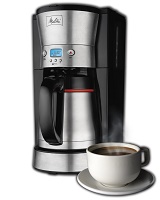 Another one with a thermal carafe, this one will make your kitchen look sharp. Keep an eye out for these thermal carafes—they are taking over the roles of glass carafes. Don't get me wrong. Glass carafes are still manufactured, and some people prefer them. It's just that on the market, we're seeing a sharp uprising of coffeemakers that are coming out with stainless steel carafes coming standard.
Don't forget that this one has a programmable feature—the clock makes that evident. The backlight enables you to see these in the dark.
Other features include the ability to toggle brew strength and the cone filter. For those who like a stronger coffee, the cone feature enables the water to pick up more of the coffee essence, just like the Hamilton Beach one above.
The auto-off feature, when coupled with the thermal carafe virtually eliminates burnt coffee. Besides—when you have to reheat coffee in the microwave because it's gone cold—it just doesn't taste the same. Wouldn't you agree? Fresher is always better, says I.
Conclusion
To make this list the coffee maker had to be under $50. In every one of these coffee machines, you're receiving a lot more than you pay for. Sure, there are several other coffee makers we could have put on this list—we didn't run out of ideas. We just wanted to bring you the best of the best—those which offer incredible value at an affordable price, without sacrificing the one reason you bought a coffee maker in the first place: a great cup of coffee.