Grind and brew coffee makers aren't exactly a new concept, but for many people they remain unfamiliar. These coffeemakers are unique as they combine two distinct kitchen appliances and tools. One of them is the coffee bean grinder, in which you add coffee beans and grind them to make coffee with. The other is the coffee maker that you use to make the coffee with from the coffee beans.
Most people aren't familiar with grinding their own coffee beans, let alone a grind and brew coffee maker. However, those who are aware know that the freshest coffee can be enjoyed only from grinding their own beans. On top of that, you can control the size of the grind and, therefore, control the strength of the coffee.
These machines often have permanent gold tone or brass filters because paper filters won't do in these makers – there're grinding blades within the filter basket to grind the beans. The freshly ground coffee is then already in the filter allowing the coffee maker to do its job and make coffee from the freshly ground coffee beans.
See our selections of some of the best grind and brew coffee makers on the market.
I'll never get over the quality of Cuisinart. They had a history of choosing quality over anything else and doing their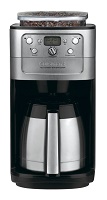 best to make it affordable. As a result, their appliances are not always cheap but they will always do an exquisite job.
This is a thermal coffee maker meaning that the carafe is thermal. It is double-walled and vacuum sealed to keep hot coffee hot for up to 3 to 4 hours after it is brewed. This eliminates burnt coffee, old coffee, and cold coffee. The advent of the thermal carafe solves some of the oldest problems coffeemakers have been dealing with for decades. By combining it with a coffee grinder, you not only get fresh coffee, but you get fresh coffee for half the day. Brew 12 cups in the morning and you've got coffee till 2 o'clock in the afternoon.
This coffee machine comes with many advanced features as standard. This includes a digital clock making it programmable, auto shutoff feature, and the classic the brew and pause feature allowing you to grab a cup of coffee before the brew cycle has completed.
If you want a coffee maker with all the bells and whistles, you found it. It's right here. Not only does this have a clear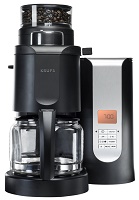 coffee bean chamber that allows you to see the coffee beans as they are being ground, they have five different coffee grind sizes, an aroma setting, and a 2, 4, 6, 8, or 10 cup brew setting to control the water to coffee ratio.
This doesn't even begin to cover standard features such as the digital clock, the programmability feature, the auto shutoff feature, and the auto brew feature. The carafe is glass, not thermal, but the brew plate will keep the coffee warm for up to two hours without burning the coffee.
The steel Burr grinder and the built-in water filtration system make this one of the best investments for your kitchen.
This 12-cupper seems to offer it all in a nice, small and compact package. The carafe is thermal, promising to keep your coffee hot long after you've brewed it. What makes them unique is not its long and wide LCD digital display, but the engineering to make sure that you get exact amount of water touching the exact amount of beans at the optimal temperature for the ideal cup of coffee. Yes, it means you have complete control over the strength of the coffee.
Streamlining the processes of grinding coffee beans and making coffee couldn't be easier with the Breville coffee maker. Furthermore, it has single cup settings all the way up to 12 cup settings. It also has the standard features of the digital clock, making this a programmable coffee maker capable of starting when you're ready, the permanent gold tone filter, and the auto off feature. Let's top it all off by saying all the plastic the coffee touches is BPA free.
Who says you can't have your coffee and drink it too?
This coffeemaker has an excellent professional-looking interface to it. It has a Conical Burr grinder which means the grinder is in the shape of a cone. The beans utilize the natural law of gravity to make sure every bean gets ground.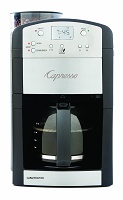 This isn't always the case with other grinders have a flat bottom.
With five grind settings, from coarse to fine, you're sure to find the strength of coffee that suits you. This model contains a unique feature among these type of machines, for it gives you the ability to brew coffee without grinding any beans – think store-bought coffee – and the programmability feature makes this a fine addition to your home. With the ability of choosing your cup size, your grind size, and your brew strength, what more could you ask for in a coffee maker?
This is one of the few brew and grind coffee makers where you can use a paper filter if desired.
Conclusion
You have to experience freshly ground coffee for yourself to really appreciate the benefits. And I'm not just talking about taste, either. I'm talking about the aroma that fills your house while coffee beans are being ground. There really isn't anything quite like it. It's like freshly baked bread or fresh cookies. You can enter your house, and it smells like a touch of heaven. It makes you go to the kitchen and think, "What smells so good?"
Ready to have fresh smelling and tasting coffee tomorrow morning? Grab your grind and brew coffeemaker today and start having amazing mornings.