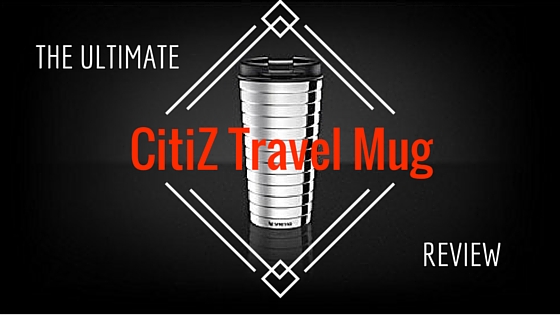 The long, or lungo, and short of it is: the CitiZ travel mugs are a triumph of style and substance.
If you could wrap up form, function, and style all into just one travel coffee mug, then this would be the one! We are currently obsessed with this CitiZ Travel Mug, and consider it a perfect choice for not only users of the Nespresso Espresso Maker, but also for any and all coffee connoisseurs.
We have look at a lot of travel mugs….I mean a lot…..but still this mug stands out to us for different aspects of it's style and function.
CitiZ Travel Mug
Sleek Style Statement
Also designed by Antoine Cahen, it is no wonder that the CitiZ Travel Mug is a triumph. The
CitiZ travel mug
is small enough to tuck away in your bag or briefcase but so attractive that you won't want to keep it under wraps. You will be commuting in style with this leak-proof mug. With Cahen's characteristic sleek and sophisticated design touch, this travel mug employs a graduated ribbed design with a stainless steel finish and subtly incorporates the Nespresso logo at its base.
Solid Structure and Function
As expected from Nespresso craftsmanship, the 11-ounce mug is doubled walled to maintain the temperature of your beverage for up to three hours. This double-walled technology creates a buffer between the coffee inside your mug and the outside temperature. Whether you choose hot coffee or cold, your drink temperature will remain ideal throughout your commute and into your day.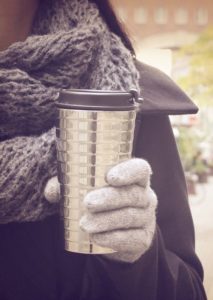 The CitiZ mug also features an exclusive latch mechanism that allows it to lock into place with your Nespresso CitiZ machine for easy and spill-free coffee making. This focused production process starts with the pop of your capsule into place. Next you lock your mug in below the spout, select your setting and let the system do the rest. The spill-proof lid will keep your coffee hot and spill free while you travel. A measuring line on the interior of the mug guides you to prevent overfilling. According to the Good Housing Institute's CitiZ travel mug review, these mugs are also dishwasher safe.
Hot Coffee Served Well
The CitiZ Travel Mug can hold up three lungo servings of your favorite Nespresso espresso. Designed to be attractive, functional and convenient, the CitiZ travel mug succeeds on all counts. Balanced in both look and feel, secure from spills, one hand functionality, and insulated for a quality beverage experience- this mug has it all.
Perfect Partner
While this mug stands out on its own as a sustainable product, it becomes even better when you pair it with the Nespresso CitiZ Espresso Maker. These two products were made to work hand-in-hand, and together can elevate your beverage while still keeping this quick, convenient, and easy.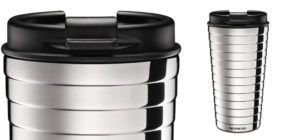 The CitiZ Machines
Big Style, Small Space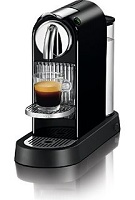 The Nespresso CitiZ Espresso Maker, a Red Dot Design Award winner. Compact with modern styling and just a hint of a retro feel, you won't want to keep your Nespresso CitiZ out of sight when not in use. With a petite 5.1 x 10.9 inch footprint, you won't need to either. The CitiZ's narrow design allows it to take very little counter space, standing tall and steady, ready to perform. The elongated design in an array of color choices leaves room for an ample 34-ounce water tank. The CitiZ Espresso Maker can be purchased alone or with an integrated Aeroccino Milk Frother for even more beverage options.
Efficient Coffee Service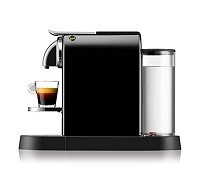 The Nespresso CitiZ runs on automatic for maximum ease of use. Select either Espresso or Lungo with the press of a button and after just 25 seconds to preheat, the CitiZ provides your hot beverage. The Nespresso automatically powers itself down after 9 minutes of inaction or can be programmed to stay at the ready for up to 30 minutes. The pivoting cup tray allows you to switch easily between using your favorite espresso cup and your CitiZ Travel Mug.
Despite its size, this machine has all the quality engineering one expects from a Nespresso creation. The high-performance pump provides 19 bar pressure to extract the best flavor from your Nespresso capsules. The 19 bar pressure is especially calculated to work with your recyclable aluminum Nespresso capsules to deliver a dense, flavorful crema with each cup.
Conclusion
The CitiZ line doesn't end with just the espresso machine. Complete your espresso experience with a set of CitiZ hand-blown, double walled espresso or lungo cups. Pair your CitiZ espresso machine with a beautiful and balance CitiZ capsule dispenser for the perfect visual complement. Whatever you choose, don't forget out on the best CitiZ accessory, with its sleek looks and great functionality, the CitiZ Travel Mug. When you choose the CitiZ Espresso Maker and CitiZ Travel Mug for your espresso making needs, you can be assured that you are well-served and in style.