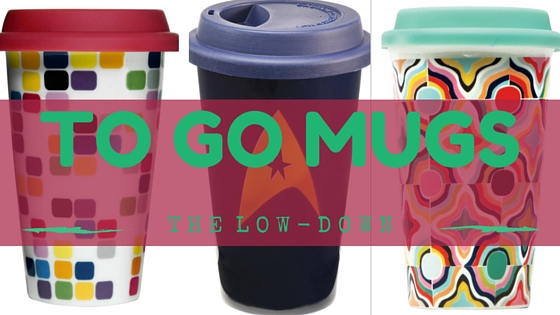 Did you know that when you walk into Starbucks to order a coffee, if you hand them your own personal coffee cup, they will make your coffee in your mug? It's true – you should try it. The only question they might have for you is, "Which mug is yours?"
With so many to choose from and so many similar designs, you may have a hard time finding one that is perfect for you. However, it won't be due to a lack of variety. There are plenty of vessels to choose from, and they are all affordable. If you consider the impact on the environment, the fact that you can have something uniquely yours, and that the price tag of each one of these mugs is under $20, what are you waiting for? Browse over this selection, then head on over to Amazon and find a design that whispers to you.
It's worthy to note that these mugs have silicone lids. That means these lids are not spill-proof, but spill-resistant if you carry them upright. If you bump it on a desk without toppling it over, your work area will remain clean. These mugs are ideal for the car as they are the perfect size to fit in cup holders. Silicone lids are easier to clean because they are all one piece. You don't have any hard plastic, metal hinges, or springs to deal with. This means the possibility of your lid breaking is nonexistent.
Let's take a look at a couple of ceramic travel coffee mugs with silicone lids to see what they have to offer, shall we?
Do you know why I chose this one? Because I think it's awesome when people make non-disposable imitations of disposable dishes. Sure, it's a gimmick – but it's a cool gimmick. Personally, I have plastic versions of what looks like paper plates and ceramic versions of red picnic cups. They're fun. This one looks like a white paper cup. At a glance, you can certainly fool the people around you for kicks and giggles.
Double-walled, vacuum sealed porcelain means that there is a vacuum a gap between the two walls of the cup – the inside wall and the outside wall. This keeps the heat in and the cold out. Or vice versa – hot drinks will stay hot and cold drinks will stay cold. The silicone lid fits nice and snug. What I noticed with this one is that white is not a very loud color. It doesn't stick out, so, therefore, is not very distracting. They named this cup appropriately – I am not a paper cup.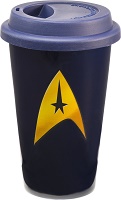 Get your daily dose of pop culture with the Star Trek mug. You know, brand placement aside, I love to see pop culture icons and people in artwork in the most random places. When you see that, it brings them more to life. Before, these characters existed only on the screen or in a comic books, manga or anime– they weren't real. People love the shows – and I should know because I'm one of them. I may not be of the generation of the first Star Trek in the 1960s, but Star Trek: The Next Generation that showed in the 90s…for me, that's where it's at. The Star Trek franchise is nothing short of amazing. If you had this mug sitting on your desk, I'm sure I wouldn't be the only one to make a Star Trek reference. That's one more way that you can brighten your day. And for all the TNG fans out there – Make it so, Number One.
This is another double-wall ceramic cup. It is blue with a matching silicone lid. It has a large yellow Star Trek logo on the side of it – two of them, to be exact. There is one communicator logo on each side of the cup. It is dishwasher-safe and microwave-safe.
The art of this cup has a lot of good energy. The cheerful colors against the white background elicit a feeling of a fresh awakening. While it may not be a pop culture icon, it certainly leaves one with a positive feeling.
This one is a little smaller, sitting at 8.5 ounces. For all the colors included in the palette, I really like that they chose red as the lid color. This mug is simple, small, and elegant – perfect for everyday use in the office. It will fit in your vehicle cup holder and is safe to use on electric mug warmers.
The lid fits on it perfectly. It creates a very snug and slightly stretched fit. Being made of silicone means you can expect not to spill a single drop. From a design standpoint, the colors work really well together. The smaller size means that it is a whole lot easier to carry from the home to the office and back again than some of the larger mugs you can choose from.
When you grab this mug, you don't expect to feel a smooth outer surface. If you think about it, the colors are expertly designed. This is your standard 12-ounce, double-walled porcelain coffee mug. It's hard not to be drawn to this mug with its myriad of balanced, yet unbalanced colors.
The cup felt a little heavier than some of the other ones we tried. The porcelain seemed a little thicker, and it stood up to our heat test quite well. You can pour in boiling water, put the lid on it, and the outside stays cool to the touch. This mug is a bit quirky, but it's perfect for everyday use and it feels like it would stand up to everyday abuse longer than most.
Conclusion
Here's the deal about mugs. While it is our purpose to bring you some of the best mugs that we found and tell you about them, it doesn't mean that our selection is going to be your selection. Nothing in this world becomes inherently yours until you put enough time, effort, and energy into it. These mugs are designed to be an outward expression of personality. Our goal is to get you to look at various mug designs and find one that whispers to you. You'll know when you find one.
You'll purchase the mug, and begin using it. After three or four months of using it every day, the mug will start to become yours. People will associate that mug with you. You'll have invested the time, effort, and energy necessary into caring for the mug that it becomes personal.
Think of it this way. If you buy a brand-new mug, and it breaks the very next day, the most you lose is the ten bucks you spent on it. However, if you buy a brand-new mug, and it lasts for three years before breaks, you'll likely feel like you lost a part of yourself. It transformed itself from a mere purchase to something personal and intimate.
History has a way of doing that. We're not just encouraging you to look at mugs to find one that belongs to you. We are encouraging and offering a way for you to create memories.