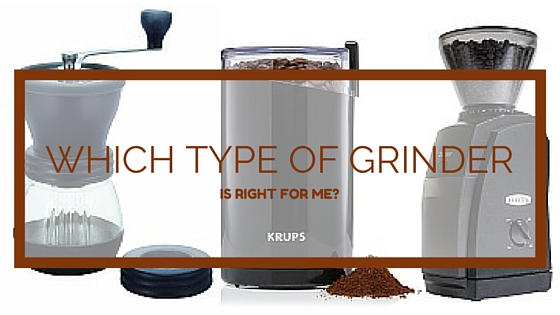 Our appetite for espresso and other coffee drinks has grown in recent decades. One telltale sign of this is the large number of coffee shops offering exotic sounding and tasting variations of the delectable beverage. The need for a homemade cup of 'joe' has not diminished, however, and the coffee grinder is fast becoming a popular home appliance.
The coffee grinder can give you fine or medium grounds best for traditional coffee makers. Espresso lovers can get the fine sugar-textured grounds perfect for their favorite drink. If you're using a percolator or vacuum brewer a coarse ground would suit you best. Avid 'java' drinkers love to know they control the texture of the ground and hence the taste and flavor of the brewed coffee.
Functionally, grinders differ in how they create the ground – using rotating metal blades or a grinding wheel called a burr; and in how they are powered – manual or electric.
Burr Grinders
Bodum Bistro Electric Burr Coffee Grinder
The
Bodum Bistro Electric Burr Coffee Grinder
is continuously adjustable with over 14 grind settings from coarse to fine. Coffee bits won't fly all over your counter thanks to the tight silicone/nylon no-spill lid and the borosilicate glass catcher that reduces static and 'jumping' coffee grounds. A timed grinding feature and a quick grind button both help you to grind the proper amount of coffee.
The Bistro puts an end to sediments in your French press, as no matter the setting, you end up with grounds all of equal size. The borosilicate glass container comes with a silicone band to make it slip-proof. I find that a pound of coffee lasts me longer. It comes with a two year warranty and is available in black, orange, red, green, and white. All in all, it's a great grinder for its price range.
Baratza Encore
The Baratza Encore – Conical Burr Coffee Grinder wows with 40 grind settings, from fine to coarse. It's sure to please even the most discerning home brewer, whether you require grounds a drip/manual brew or for espresso. No matter how long it grinds, the beans are kept cool by the DC motor. The burr speed ensures smooth bean feed and reduced noise, heat and static buildup. Its design minimizes the amount of ground coffee left in the grinder. Cleaning the Encore is safe and easy, requiring no tools to remove the burrs.
On the down-side, a few customers commented that the plastic gears wear easily and are either difficult or pricey to replace.
Blade Grinders
Cuisinart Grind Central Coffee Grinder
The Cuisinart Grind Central Coffee Grinder is sure to make a statement on your countertop. Big and sleek with a modern look, it has the capacity to make grounds for 18 cups of coffee. Its heavy-duty motor and stainless steel blade assembly help you power through to aroma filled roasted coffee grounds for your morning 'cuppa'.
The Grind Central is designed with a transparent cover, for those of us who like to keep a check on what's going on. It also has a removable dishwasher safe grinding bowl that makes cleaning easy. it is completed by a storage lid that allows extra coffee to be stored in grinding bowl, easy to read measurement markings, and cord storage.
That's plenty of good stuff at a reasonable price. However, some customers took issue with the unevenness of the grind and commented that it was not particularly suited for fine espresso ground.
KRUPS Electric Coffee Grinder
The KRUPS Electric Coffee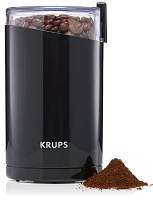 Grinder can hold enough beans for 12 cups of coffee. Its design gives uniform grinding from its stainless steel blades and it comes with a lid activated safety switch. The powerful 200-watt motor gives all the grinding speed you need. The cheapest of those we review here, its craftsmanship is admirable, right down to the sleek oval shape.
For the KRUPS Electric, some customers cited the lack of coarseness setting as a drawback and suggested it was best for espresso grinding as it does fine grounds very well. Others say it just takes a bit of practice to know how long to grind to get the texture that suits you. Generally most people admit to having, and using it consistently, for years without problems. That sure makes it an attractive buy compared to higher price models.
Manual Grinders
Cozyna Ceramic Burr Manual Coffee Grinder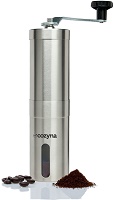 Designed specifically to fit into an AEROPRESS, the Cozyna Ceramic Burr Manual Coffee Grinder is rust free, static free and durable. To use with an Aeropress, simply take the bottom cup off and insert the grinder right into the Aeropress. Its mill is made from high grade stainless steel and fills a wide range of grind preference – from espresso to French press. The grind size is easily adjusted with the turn of a knob.
The Cozyna Ceramic is extremely lightweight at less than 1 pound. Its small, slender size means it's easy to take anywhere. The ceramic makes it easy to clean which is great for outdoor use. Because it is so slender, it is easy to grip as you grind, giving you better control. It gives a fairly consistent grind, with a few customer reviews suggesting that it grinds fine better than coarse.
Hario Ceramic Coffee Mill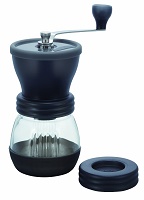 If funds are limited but you still want to enjoy freshly ground coffee, then the Japanese Hario Ceramic Coffee Mill will do just fine. It is small and lightweight (at 1.2 pounds), making it quite portable. Remarkably easy to use and to clean afterwards, the Hario Ceramic is an excellent choice for use outdoors or when travelling.
It gives a fairly consistent grind and according to some owners, does coarse ground better than it does fine. There is no 'jumping' of the beans while grinding, so you may find the included lid a bit redundant. You don't have to worry about cleaning coffee grounds from the counter after using this grinder. It is a simple, effective, well-priced machine that comes without all the bells and whistles.
Conclusion
There you have it – a look at the best type of coffee grinder to suit any at-home coffee connoisseur. Whether you prefer manual or electric, blade or burr; there is a grinder for you, and a price range to fit every budget. All that's left for you to do is select the ideal one for you.