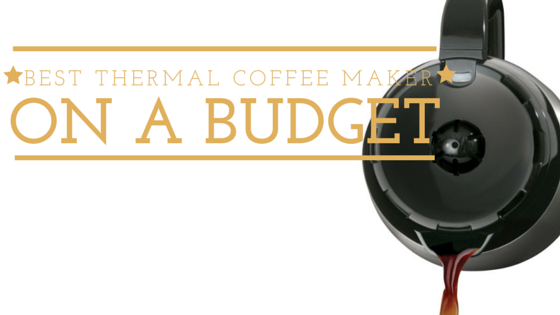 Move over, glass carafe! There's a new kid on the block that we are seeing more and more of. I'll give you a hint ~ it's stainless steel. Today we're taking a closer look at thermal coffee makers. Delicate glass carafes are becoming rare while these thermal carafes are taking their place.
Glass carafes are usually on a hotplate to keep the coffee warm. If this is what you have, then you know that's how the coffee makers keep the coffee warm. However precise the hotplate temperature may be, if it's kept on long enough, you end up with burnt coffee, which is bitter, thick, and unpleasant. Some coffee makers have an auto-off feature to attempt to keep coffee from burning.
That's not the case with thermal carafes. They do more than just look good. The carafes are thermal, which means something. They are double-walled, vacuum sealed pieces of equipment that offer some pretty serious benefits over glass carafes.
First, let's take a look at the name. What does thermal mean in any instance other than in the world of coffee making? It means that it keeps hot things hot and cold things cold. In the world of coffee making, it means that hot coffee will be kept hot, long after you make it.
There are several deciding factors that we consider before we create any list that features the best of anything. In this particular case, we looked at availability, brand-name recognition and weighed in the relevant characteristics. If a feature wasn't relevant, we didn't use it as a contributing factor. To us, a feature is something that can be added to any coffee maker that contributes to its functionality, like programmability for example. We came up with five of the best thermal coffee maker under $100 and decided to compare them side-by-side in one place. Keep reading to discover what we found.
Filter Style & Size: Cone #4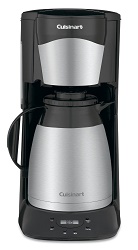 I've said it before, and I'll say it again. Cuisinart is one of the best brands in the realm of kitchen appliances. They attempted to keep this coffeemaker simple yet still carry all the features expected in a decent thermal coffee maker.
It has a clock, front and center, which should tell you immediately that it is programmable. It is a feature that allows you to prepare the coffee the night before and program it to brew at a certain time, enabling you to have blistering hot, fresh coffee first thing in the morning.
Cuisinart offers a full 12-cup stainless steel thermal carafe. Being a thermal carafe, it implies that it is vacuum sealed to keep the heat in. The stainless steel nicely accents the black background of the coffee maker.
Cone filters are able to extract more coffee essence from the being the than your typical basket style filter due to its shape. Cone filters are formed a lot like ice cream cones. They start out wide at the top, and as you go down, they end up concentrating their shape into a single point at the bottom. They're able to get better coffee extraction than basket-style filters due to this design. Water is evenly dispersed upon the beans at the top, and then it uses gravity to trickle the water to a single point at the bottom. The very shape concentrates the fresh coffee into a single point before the water leaves the filter that enters the carafe. It stands in opposition to the way basket-style filters function with their flat bottom. In basket-style filters, water enters the basket and touches the beans. Only after the water leaves the filter is the water concentrated to a single point before entering the carafe.
Filter Style & Size: 8 – 12 Cup, Basket Style
Mr. Coffee won't just make your coffee—it will look good while doing it. Not too many coffee makers have a white-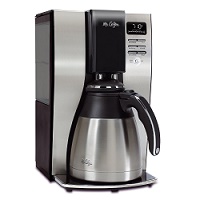 on-black digital clock that is easy to read. Mr. Coffee is famous for their water filters, yet this one adds one more feature.
The water reservoir is removable. This means you can remove it from the machine, take it to your sink, and fill it up with water. You don't need a separate container to fill this one up. This one features a digital "freshness timer," that will keep an eye on your coffee from the time you brew it to the time it is no longer fresh.
This side-loading filter basket is perfect for countertops with low clearances.
This coffeemaker features a cleaning cycle timer, which will remind you when it is time to clean the coffee maker for better tasting coffee.
Due to the thermal design of the carafe, you don't need a hot plate built into the maker, allowing for a nice smooth place to put the carafe.
Filter Style & Size: Cone #4
Melitta offers another cone filter design, guaranteeing the best in coffee extraction. Let us not forget the red accent stripe on the carafe, making this carafe pop in your kitchen.
The clock offers a blue backlight, making it easy to see in the dark. The clock also indicates that this coffeemaker is programmable, allowing you to make your coffee ahead of time and save time in the morning. You have settings for regular, bold, and a robust coffee.
This machine also has an automatically shut off after two hours, but with the thermal carafe features and design, your coffee will actually stay warm for at least five hours without the hotplate. The ability to keep the coffee hot without a hotplate means you can take the carafe with you wherever you want –your desk, the living room, or even outside. The drip-free spout ensures you do not need to carry a roll of paper towels with you as well.
The coffee filter basket swings out, allowing for better vertical clearance. Most kitchen cabinets allow for a standard of 18 inches between the countertop and the bottom of the cabinets. If I had to lift the lid from the top of the machine, I would find myself physically moving the machine forward on the counter to fill it with coffee on a daily basis. The fact that the filter basket swings open like a drawer tells me that Melitta put some thought into their design.
It's also worthy to note that Melitta offers instructions to make iced coffee with this machine. Fill the water to the 5-cup line, and brew your coffee at double-strength. When it's done, fill the carafe with ice and the thermal carafe will keep your beverage cold.
Filter Style & Size: 8 – 12 Cup, Basket Style
Black & Decker just had to make an appearance, didn't they? They are famous for making otherwise unaffordable appliances and devices affordable. You can see this right from the beginning with this machine as you will notice that Black & Decker did their best to make sure they have a perfect drip spout – when you pour coffee, you won't lose a single drop.
They included yet another feature usually prominent in more expensive coffee makers – the ability to adjust your brew strength. You'll find that feature here plus a timer that will let you know how much time has passed since you brewed your coffee.
This system cleans itself, is programmable with the auto brew feature, and will shut itself off with the auto off feature. This may be a basic design, but it more than packs a punch and is well worth the value. Let's just add that clock at the top in the middle, so you know exactly how late to work you're actually running.
Filter Style & Size: Cone #4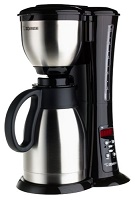 Zojirushi has been making thermal kitchen appliances for several decades. This is one of their first coffeemakers on the consumer level. However, they have been making rice cookers and tea makers with thermal designs for several years. Their years of experience are evident in this coffeemaker.
Nice and tall, this one is. This one has all the controls on the side towards the base of the machine. Believe it or not, this is actually one of the nicer features of this coffee maker. It allows you to see the water from the same angle as the controls. It has an auto-off feature, is programmable with the clock, and of course – the stainless steel thermal carafe will keep your coffee from ever getting burnt.
Stainless steel on black accents your kitchen beautifully. It is a little taller than some, but that is one of the features that make this one stand out.
Zojirushi has all their measurements in the metric system, so is worthy to note that this is a 10-cup coffeemaker. It may appear to have a tall design, but it only stands 15 inches tall, allowing you to fit it perfectly underneath your kitchen cabinets with 3 inches of clearance. You may have to put this coffeemaker in a spot that does not have an overhead cabinet directly above it.
When you brew this coffee, you need to remember to keep the lid of the carafe on, but don't screw it too tight. It needs to be snug. When the lid is not on it, it will not brew. If the lid is not too tight, it will make a mess on your counter. The design of the lid is to ensure that it traps as much heat within the coffee as possible. Thermal coffee makers are not designed with hotplates, so any time that the coffee touches the air it is losing heat.
The coffee maker comes with many of the standard features you find in many coffeemakers – the clock, pause and brew functions, and, of course, a great cup of coffee. Zojirushi hit a home run with this one. It makes a really nice cup of coffee if I do say so myself.
Conclusion
Due to the nature of thermal designs, these thermal coffee makers have a reputation for creating a weaker coffee. The instructions that come with the coffee makers tell me that if I want a bolder tasting coffee, I simply need to add more coffee to the coffee filter. My experience with these machines taught me a better way to remedy this problem. By using a darker roast coffee, you can create a better, bolder tasting coffee.
More and more establishments and consumers are making the switch to thermal coffeemakers for the simple reason of coffee quality. It actually stands as a testament to our insistence on having high-quality coffee. We won't settle for less, nor should we have to. We rely on our coffeemakers every single morning, and there's no reason you or anyone else should have to live with burnt, muddy coffee. That is exactly what stainless steel thermal carafes have set out to change.
Find out what you're missing out on – make sure your next coffeemaker is a thermal one.