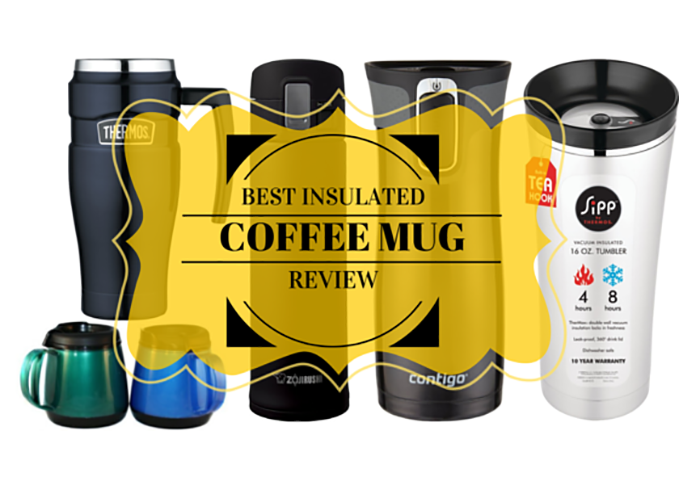 Colors, styles, sizes, brands galore! And going with my theme of writing everything there is to know about the coffee world, I'd be ashamed to find if I neglected some of the most important tools and aspects involved. After all, what is great coffee without a great cup to put it in?
When we tested these mugs to bring you this best insulated coffee mug review, we looked at several different aspects, including the ability to hold heat, the convenience of using it in a vehicle, and how easy each one was to clean. There are so many different colors, I wouldn't believe anybody who said they couldn't find one they liked.
Top rack dishwasher safe and over 14 different colors, Contigo makes it difficult to choose just one. Many of them are metallic colors, making them look very attractive.
It is vehicle friendly ~ the tall narrow shape makes that possible. And, of course, it is double-walled and vacuum sealed to keep the hot inside in the cold outside—and nothing in between.
It's virtually spill proof. Contigo has a proprietary lid that makes your liquid goes out only when it's supposed to, preventing leaks and spills. It has is a little button on the side perfectly placed for your thumb to press in and take a sip. Without pressing this button, nothing comes out.
The mug will hold the heat in for four hours, but don't limit yourself to hot drinks. For ice cold drinks on those warm summer days, it will keep your drink cold for up to 12 hours without any extra effort on your part.
Choose from a myriad of colors including black, watermelon, greyed jade, gunmetal, latte, matte black, Monaco blue, polar white, radiant orchid, stainless steel, transparent matte latte, Violet, matte black radiant orchid, and stainless/Monaco blue.
If memory serves, Thermos was a brand that made our lunch boxes in grade school. It seems so long ago. Yet this proves they're still around. This tumbler is 16 ounces and made of an airplane grade stainless steel inside and out. It is double-walled and vacuum sealed to make sure your coffee stays hot like it's supposed to.
Another brilliant design with a one hand push button operation to make sure your coffee does not leak or spill in the car, or even in a position that's not upright like in a backpack. This one will keep liquids hot for five hours and cold for nine hours – enough to keep you going all day long.
With all the hullabaloo that is surrounding tea and perpetrating how healthy it is for you, Thermos has your back. This particular mug comes with a tea hook built into the lid that allows you to have tea bags or tea infusers hanging outside of the cup while the lid is on the same time. No one said you had to just use these mugs for coffee.
The lid is very comfortable on your lips and will ensure that you can take sips of hot coffee without scorching your tongue. Choose from black, burgundy, plum, or teal.
Stainless steel surfaces do exactly what it implies to do. The surface is literally stainless – it cannot be stained. That's good news for you because coffee tends to stain. These mugs from Zojirushi offer a slick steel finish and a completely spill proof lidded design.
If you look on higher quality stainless steel kitchenware pieces, you will see a grading system. The grading system is usually posted – engraved – in either 18/8 or 18/10. To find either one of these two grades etched onto the stainless steel surface is an immediate indicator of some of the highest quality stainless steel construction money can buy. Zojirushi stamped theirs with 18/8 right there on the bottom of the mug. It's the only mug I've seen with quality boasting rights
This is another perfect cup for the car. Nothing is more frustrating than to find out that you have a layer of sticky film in the bottom of your car cup carrier inside your vehicle because your coffee spills a few drops every day – drip by drip. You won't have that problem with this mug because nothing – literally nothing will escape the spill proof design of this cup. The vacuum seal will make sure that you can make your coffee in the morning, be on your way to work, and enjoy hot coffee in the office.
Choose from five different colors including champagne gold, lavender pink, stainless steel, smoky blue, and black.
These two made the list because of their comfortable, small, timeless designs. They're not vacuum sealed. Instead, these use foam insulation. These may not be ideal for traveling, but they are ideal for the office or any home setting. Plus they're really durable – they're not likely to break anytime soon.
With skid resistant bottoms and a completely dishwasher safe design, it won't take long for either of these two mugs to become instant, daily favorites. You see, the makers of these mugs didn't go for the fanciest design. There are hundreds of other fancier designs you can choose from. What they went for was more of a simple design that you could use every single day.
And don't worry about them being spill proof – the lids snap on plenty tight – you can carry it from room to room without worrying about any drops spilling onto the floor.
One mug is green, one mug is blue, and neither mug has any printing on the side. They are still double-walled and have quiet beauty within the high-gloss finish.
Thermos did it again, with a stainless steel travel mug with the handle. The stainless steel has a dye – it is not painted – adding to a slick colored metal cup with the black plastic handle. Once again the lid is still proof, ensuring that the interior of your vehicle stays clean.
Every mug that is vacuum sealed has the ability to keep hot drinks hot and cold drinks cold. They also offer another, often unwritten benefit. It also means that the outside of the mug will not be hot no matter how hot the drink is inside. Cold drinks will not generate a layer of condensation on the outside of the cup.
Each cup has a metallic undertone in the colors. Choose from blue, cranberry red, raspberry, cranberry, matte black, and midnight blue.
Conclusion
Almost everybody has their favorite coffee mug that they just can't live without. If you don't have one, you might find solace when you do get one. The mug becomes yours. It becomes an extension of you. It often gets to the point where people can't picture you without your mug. They look at your mug and think of you because it belongs to you, and you're never seen without it. It takes time for a coffee mug to reach that status, but when yours does, everyone knows.