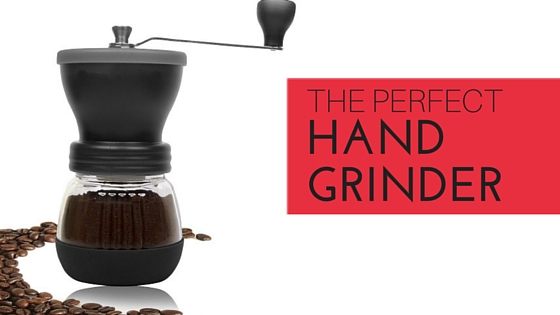 Many of us enjoy the daily morning ritual of enjoying a cup of hot, home-brewed coffee in the morning. The problem is that some of us may be suffering in silence with brews that aren't perfect.
It is likely that a lot of the problems stem from poor grinding. If you have a cheap, blade-based electric grinder then you may be unknowingly spoiling your coffee before you've even begun!
Automatic grinders have been around for a long time, taking the manual effort out of making a cup of the good stuff. However, a lot of coffee lovers still prefer their coffee ground manually. This is because all but the very best – and most expensive – electric powered offerings either give a poor quality cut, produce heat during the process which can change the flavor of the cup, or both.
Quality Coffee Deserves a Quality Grinder
We believe in the flavor-saving power of manual grinders. The difference that a quality grinder can make to the flavor and texture produced by your coffee beans is like night and day. So, we've chosen to share some of our favorite hand operated options that are sure to get you to coffee heaven!
Brillante Manual Coffee Grinder
The
SS1
boasts that it can be used as a spice grinder but that's another topic for another day. Designed with slenderness in mind, this coffee grinder is ergonomical and allows for ease of use. An excellent choice for newcomers to manual coffee grinding as the easy to grip body and extended handle make light work of even the toughest beans.
Thanks to an adjustable and conical ceramic burr, the SS1 is absolutely ideal for all coffee lovers. Pressers, plungers, pourers and espresso-fans will have an absolute blast making coffee – though the fun won't last long, as it'll finish grinding a full load in just over a minute.
The greatest news of all is that it is so slim and light, that it can be taken with you on your travels!
DuraCasa Manual Coffee Grinder
DuraCasa's
offering comes with a ceramic burr that has a hardness not dissimilar to diamonds! This means that you'll get a consistent grind throughout the mill's life – and you can expect a lifelong performance from this brilliant piece of home-barista equipment – with the combination of tough ceramic burrs and a fortified glass body ensuring you years of grinding joy.
There's one thing you'll notice quite quickly: the aesthetics of this grinder are absolutely stunning. DuraCasa's grinder would look at home in any kitchen or even the grandest of cafes. This is all thanks to a compact body and an understated, matte black finish.
The mixture of durability and style make the DuraCase a winner in our eyes!
Tanors Manual Ceramic Burr Coffee Grinder
If you enjoy the freshest, hand-ground coffee and the convenience of easy storage then Tanors Manual Grinder may be just the thing for you!
The biggest shock about this grinder is the price. Somehow, for such an elegant piece of equipment, you don't have to pay a premium. The fortified glass display, high-quality ceramic burr and positively traditional look make this manual grinder look as though it has come straight from the most upmarket coffee shop in town.
Of course, looks aren't everything. Fortunately, this coffee grinding machine is as beautiful on the inside as it is on the outside. The fully adjustable ceramic burr allows you to create textures that are fit for whatever brewing you intend to do.
Bold Bean Architects' Best Manual Coffee Grinder
The Bold Bean Architects' Grinder looks unlike anything else in our list. It's shape and design are outspoken and futuristic, making it the best hand grinder for espresso fans that also enjoy their art-deco.
On top of looking brilliant, the hourglass contours fit a working purpose, too: the Architects' Best allows for two-handed milling, compliments of a slender midriff.
With such a cool, flamboyant design, you'd expect high-quality inner workings – and you'd be right. One of the most noticeable functional advantages to partner with its loud looks is the amount of coffee that you can grind at any one time. Thanks to a capacity larger than most of its competitors, even the biggest of coffee fans will be able to make a batch suitable for their appetite.
Easy to use adjustment screws also make it a doddle to alter the texture of your grinds to suit your wants and needs. Despite its space age style, this revolutionary coffee mill will help any coffee-connoisseur's brewing easier and more efficient.
Hario Ceramic Coffee Mill
One of the best-known names in home coffee brewing, Hario have been providing absolutely magnificent cafe equipment for decades and the Ceramic Coffee Mill lives up to the standard at which Hario are now held.
Designed to be light, transportable and small for convenient storage, this manual grinder is perfect for both home-brewers and travelling coffee fans. Thanks to its clever use of resources you get a lot of coffee grinding goodness for your dollar, too!
One big advantage to the Ceramic Coffee Mill is its ease of use – it is so intuitive in its functionality that even a child could grind the perfect cup! Thankfully, this simplicity makes cleaning the grinder as easy as pie, too. After a couple of uses, you'll soon be as efficient as a professional thanks to Hario's simple and superb mill.
The Perfect Perk-Up
Any of the above will ensure that your morning cup is as tasteful and fulfilling as can be. Whether you percolate or press, a top quality grinder is essential to brightening your coffee – and your day!