Let's face it: the price of gourmet coffee is ridiculous. $4 or more for a cup of coffee at your local café? No thank you! If you get coffee from a café on the daily, that's more than $20 per week! You could just drink coffee at home. Most people, though, have a drip-maker sitting on their kitchen counter. These machines are outdated! You know the quality of your drip-made coffee just can't stand up against gourmet.
But what if you could have that coffee shop quality for less than $1 per cup, and in the comfort of your own home? Then consider a French Press coffee maker! Don't let the intimidating press-design fool you—these makers are surprisingly simple to use. The steep-method of a French Press releases more of the natural oils and aromas from your grounds, ensuring an incredible cup each time. Your very own French Press will be the pride of your coffee-lover collection. With elegant designs and incredibly easy-to-use process, you'll question why you didn't buy a French Press sooner!
We've selected 5 of the top-rated French Press makers on Amazon, ranging from petite 6 cup to colossal 12 cup capacity. Take a look at our reviews below. These products are sure to satisfy your gourmet coffee desires!
This classically designed press is an Amazon hit! SterlingPro's press maker is the FIRST to use a "Double Screens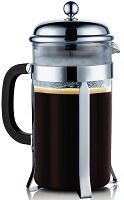 System," promising there will be NO pesky ground in your coffee! This set even comes with an additional press screen, backing their 100% groundless coffee guarantee. The carafe is made of durable, heat-resistant, and dishwasher safe borosilicate glass. Though seemingly thin, the glass of this carafe has been tested to ensure safe, quality brewing. A plastic liner prevents the lid from heating, keeping you from coffee maker burns! (But don't worry, SterlingPro guarantees that no plastic will touch your coffee.) Unlike most presses, SterlingPro's press comes apart easy for deep-cleaning. However, beware that the small ring fittings may come apart. Overall, a great quality press for such a low price!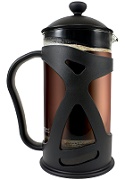 KONA provides a new take on the classic French Press design. Their unique and attractive insulated outer shell protects your carafe from chipping, while looking ultra-modern on your countertop! The KONA press is made from extra thick glass, ensuring no cracks from the heat of your water. The durable design also provides a comfort-fit grip for effortless pouring. This maker is perfect for taking to the office or even on your next camping trip!
The only downside is this press is slightly difficult to take apart, making cleaning more difficult than other presses. Because of the durable design, the parts may stick together. However, the sticking is rather uncommon, especially when cleaned regularly.
If you hate the chrome plated, ultra-elegant designs of other presses, then Bodum is the one for you! The Bodum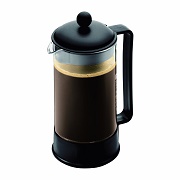 Brazil press has a simple design that comes in three colors: standard black, elegant red, and cheerful green. This press is perfect for quirkier kitchens. Personally, I love the sleek metalwork on the classic French Press design, but the charming colors of the Bodum are quite delightful.
Though many coffee lovers question the quality of plastic framework, this durable model is genius for those who can be a little clumsy at times. In addition, all of the plastic used on the Bodum French Press is BPA free—removing any worry of "toxins" ruining your perfect coffee! The Bodum Brazil is also available in a 3-cup (12-ounce) size, wonderful for a single coffee drinker.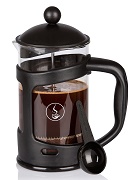 Though a small, independently owned company, Coffeeget advertises "great quality coffee products." That's exactly what you will get with this French Press Coffee Maker. This press makes 27 ounces of gourmet pressed coffee, ideal for your coffee-to-go mornings or those with smaller coffee appetites. The stainless-steel filter system helps extract the aromatic oils and subtle flavors of your favorite ground coffee.
The thick glass ensures premium heat resistance, which the plastic housing keeps the maker lightweight and attractive. Like the Bodum Brazil, the plastic housing on this maker is less "elegant" than the traditional stainless steel housing, but still very attractive in the solid black. To make the deal even better, Coffeeget is offering 3 extra filters, providing you with years of great coffee experiences.
Another Bodum product, you ask? But of course. Bodum products advertise their visionary innovation to coffee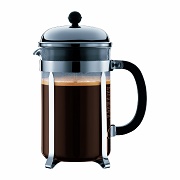 making. The Chambord is Bodum's original coffee press design, the one that rocketed Bodum's success in the at-home gourmet coffee industry. In fact, in 2004 the Bodum Chambord coffee press received the American Culinary Institute's award for best French press coffee maker. Now that's impressive!
This colossal French Press takes Bodum's innovation to a new level! Holding an enormous 51 ounces of French pressed coffee, this maker is ideal for those looking to replace their outdated drip makers. For families with multiple coffee drinkers, the Bodum Chambord completely outdoes your standard 12-cup drip machine. You'll be surprised by the improvement in quality, while sacrificing no extra time!
One customer had a great tip for this large maker: to keep your coffee warm while steeping, wrap the carafe in a cozy or dish towel. This method keeps all 51 ounces warm for your enjoyment, without ruining your coffee with a zap in the microwave.
Conclusion
Take your pick of any of our suggestions and you will find the best French Press Coffee Maker on the market. While the prices vary, though all will still cost you less on average than visiting a coffee shop, and the quality of these products is astounding. From quirky to colossal, I'm certain one of these makers will fit your French press needs. Stop wasting money in over-priced gourmet coffee shops—have the quality of the café in the comfort of your own home with a French Press Coffee Maker!