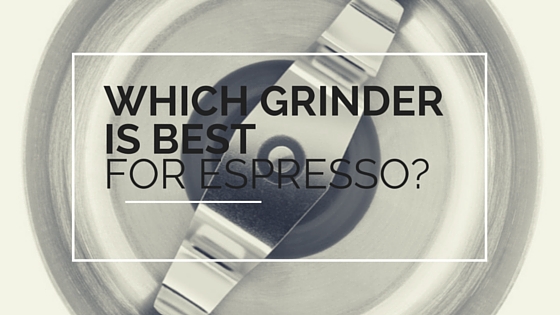 At Coffee Maker's Paradise, we absolutely love a cup of coffee. In our opinion, high-quality coffee is not just part of our morning routine, it's a way of life.
When it comes to making the perfect espresso—or any other coffee drink, for that matter—the importance of a quality grinder is often overlooked. Pre-ground coffee is subpar, as industrial grinding on a big scale produces heat and inconsistent grinds, meaning that the taste of the end product is not what we'd expect. In the same way, using a poor-quality grinder also hinders the resulting homemade brew.
However, not everybody has the means to purchase the latest and most expensive grinder. As such, we set out on a mission. A mission to find the best espresso grinder under 200 dollars, allowing everybody to enjoy home-brewed coffee of the highest standard.
The Importance of a Quality Grinder
A decent grinder is an integral part of the coffee-making process. Even the best espresso machines in the world will produce substandard coffee when paired with beans that have gone through a terrible grinder.

It sounds like snobbery, or a coffee grinder manufacturer's advertisement, but a high-quality espresso grinder can the cheapest of espresso makers produce quality coffee day-in, day-out. On the other hand, a poor grinder can cause of $2,000 dollar maker produce disgustingly bitter coffee.
As you can see, a quality-grinder should be the first thing on your shopping list! Luckily, we've rounded up some of the best in budget grinders and put them all into one place. Below, you'll find some of the coffee grinders that give you the best bang for your buck!
Caspresso Infinity Conical Burr Grinder
The Caspresso Infinity is an easy to clean, commercial-grade burr grinder that is absolutely ideal for busy coffee-drinking households and small cafés alike. It has the ability to handle 8.5 ounces of beans at a time—more than enough for even the thirstiest coffee lover!
With 16 available settings—extra fine, fine, regular and coarse, each having a further 4 settings within—this grinder can get you the perfect texture for almost any brewing method. What's more, the grinder is shipped with a built-in timer, allowing you to get on with your life as your coffee is prepared automatically, making the Caspresso Infinity the ideal grinder for coffee connoisseurs with busy schedules.
By utilizing a conical burr design, usually reserved for commercial machines, this grinder reduces the friction and heat applied to your beans—extremely helpful for preserving the natural flavors and aromas of your blend.
One of the biggest advantages to Caspresso's budget grinder is the ease of cleaning. Thanks to the heavy-duty zinc die-cast housing, lift-off bean container, and removable upper-burr, wiping this grinder down after use is a doddle.
When we began looking for the best grinder under 200 dollars, we certainly weren't expecting to find a 100 Watt commercial-grade, 16 speed grinder with an advanced conical burr design—fortunately we did, and in our opinion, the Caspresso Infinity Grinder is an absolute bargain!
KRUPS Coffee Grinder
The KRUPS Coffee Grinder, like all their products, was designed with three key attributes in mind: Passion, Precision,and Perfection. It is obvious that KRUPS drew a lot of inspiration from professional models when they created this model – using a burr mill and providing 17 settings for your grinding pleasure, they have created an ideal home-use coffee grinder: it avoids overheating your beans, whilst providing the flexibility required for coffee fans who like to vary their brewing methods.
Unlike most grinders in its price range, this grinder provides a selector for choosing how many cups you'll be making. By setting the quantity, you avoid wastage, getting the perfect amount of excellently ground coffee with every cycle.
Fortunately, when you use the grinder, your flavor will never suffer from the contamination of air. This is thanks to an air tight bean hopper that is coupled with an anti-static coffee container.
As every coffee lover knows, grinding just before consumption helps to preserve—and in some cases enhance—the assorted flavors and nuances of your blends, and by keeping everything sealed, this KRUPS grinder ensures that you get the perfect cup of coffee that you deserve, each and every morning.
Despite its large capacity, the multitude of settings, a burr design that nurtures your coffee's natural flavor and simplicity of cleaning, the KRUPS comes in well under budget. Even so, this model performs as well as some grinders that are vastly more expensive.
Bodum Bistro Electric Blade Coffee Grinder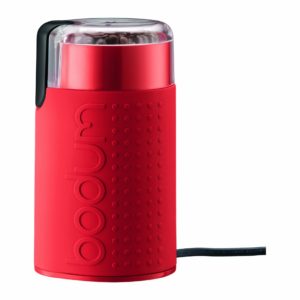 The simple and affordable Bodum Bistro grinder offers style as well as substance. Its minute stature makes it the ideal candidate if you need a grinder that is readily accessible at all times—and you won't mind displaying it, either, thanks to a selection of eye-catching colors that it comes in.
Different blends require different grades of ground, so it makes sense that the Bodum Bistro has a transparent lid, making it easy for you to check how far through the grinding process you are. That's one of the things that we truly love about this grinder—no messing with settings, no fiddling with dials, just pop your beans in and grind until you're satisfied. All in all, this is absolutely ideal for those who are just getting started with their home-brew hobby.
One thing that really surprised us about the Bistro Electric Blade Grinder was the fact that, despite its small size, it can grind enough beans for an 8-cup French Press. Pretty impressive!
DuraCasa Manual Coffee Grinder
If you prefer a more personal experience when grinding your coffee, we have just the thing for you. The
DuraCasa Manual Coffee Grinder
offers a ceramic burr system that ensures that heat and friction are minimized throughout the grinding process—especially considering the fact that you have full control over the entire grind. The mechanical workings of the grinder, the ceramic grinding system, and the manual operation help to create an intense, flavorful cup of coffee every time.
Of course, being manual, the DuraCasa has one other advantage over many other espresso grinders: it can create awesome coffee on the go, making it ideal for coffee-lovers who are constantly on the go. Its small size makes it ideal for travel—arrive, grind, drink, enjoy!
If you're a big fan of traditional coffee houses, then the DuraCasa Manual Grinder has one more deal-sweetener in store for you—its compact build and beautiful glass display give it a professional look and feel that you might not get from automatic grinders of a similarly low price.
The final point that tips the scales of judgment in the DuraCasa Manual's favor is the manufacturer's confidence in it—they claim that their ceramic burr is of a hardness similar to that of diamonds and that it will never rust. So sure of this, they offer a 100% money back guarantee on every purchase!
KitchenAid Blade Coffee Grinder
KitchenAid's
offering really impressed us—we urge you to find quality equal to this at a similar price—we don't think you'll be able to, because we certainly couldn't! This blade grinder features a simple one-touch operation. Simply depress the cover to begin grinding and release to stop, giving you immediate control over the texture of your grinds. Since the cover itself is clear, you'll easily be able to see when it is time to let go—meaning you'll get the results you want every time!
Rated for 12 cups at a time, the stainless steel blades make quick work of even the toughest beans, meaning that you'll have your hot cup of comfort earlier than you might expect—and due to the measurement markings featured on the removable 4oz bowl, you'll know how much coffee you need with even the quickest of looks.
A big bonus for those who aren't much for doing the dishes is that the KitchenAid Blade Grinder's bowl, blade, and cover are all dishwasher safe—saving you time and effort after the grinder has done its thing!
Save Money While You Make Perfect Coffee
The importance of a quality grinder cannot be understated. Your coffee maker, regardless of your brewing technique, can only produce coffee of a consistently high standard if your grinder is putting the prep work in.
Fortunately, when you buy any of the models listed here, you're getting amazing value for your money—they really are some of the best espresso grinders under 200 dollars, so if you're looking to brew on a budget, they're definitely worth checking out!