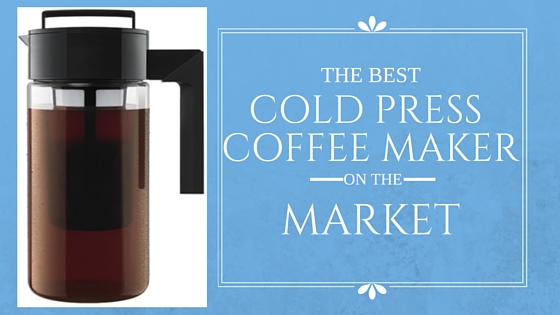 There is a right time for everything, and when it's warm outside, you know it's time to replace your hot coffee brewer with the best cold coffee maker that you can find. A deliciously made glass of iced coffee can make all the difference on a warm peaceful day at home or a busy week. It's healthier, stays fresh longer, and even tastes sweeter because of its low acidity. Cold coffee makers are making their way into many homes and today we're helping you find the perfect fit for your kitchen.
These five cold coffee makers are a great way to turn your kitchen into your own personal café – serving coffee just the way you like it.
Toddy is a veteran in the market. It's built to produce coffee with 67% lower acidity, eliminating the possibility of stomach cramps. Parts that are included: a glass decanter with lid, one rubber stopper, 4 reusable filters, and the brewing container with handles for easy maneuverability. It uses regular coffee beans which is subsequently filtered through the reusable filters and collected by the decanter. The rubber stopper and brewing containers are built to prevent the coffee from floating, for a smoother more saturated taste, and it can also be used for brewing tea. Designed for the user's convenience, the Toddy works without electricity, it's easy to operate, clean, and set up. New users can make use of instruction manual and recipe guide.
If the Toddy is above your budget, this "pitcher" is a great alternative. With a holding capacity of 50 oz, the Primula can turn anyone into a professional barista. It features a carafe made from low-melting glass which makes it resistant to temperature changes. Users have the flexibility to switch their filter with those from Primula's other products for an entirely new taste. It includes an easy-to-clean removable bottom so that you can spend less time cleaning and more time enjoying tasty iced coffee. Although the system is fairly user friendly, it may require a few tries for you to find the right intensity. Simply put in the water and grounds and leave it to sit in the refrigerator so that you can enjoy tasty coffee with 65% less acidity, whenever you like.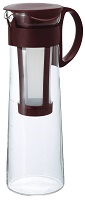 This aesthetically appealing carafe combines simplicity and functionality in one. It includes an ultra-premium Hario glass and a permanent filter, eliminating the need for you to spend time to replace the filter. Stack the mesh basket with your favorite coffee grounds, add water to the pitcher and refrigerate for 10-24 hours – it's that easy. The basket features a fine mesh which helps to make the end product smooth and flavorful. Furthermore, with only two parts included in the one-liter pitcher, cleaning up is never easier.
The Takeya Cold Brew Coffee Maker is built to reduce oiliness and acidity, creating a sweeter more tolerable coffee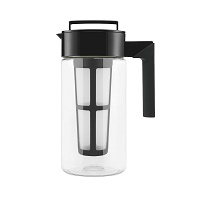 that everyone in the house will love. It big enough for 4 servings of coffee and can stay fresh for up to two weeks courtesy of the leak-proof lid designed to lock in freshness and flavor. The system includes a non-slip silicone handle for a firm grip and reducing accidental spills. To brew coffee, fill the pitcher with water and add coffee grounds to the revocable infuser. Leave the infuser in the pitcher for 24 before enjoying the end product. The BPA free plastic makes it healthier and easy to clean. Cleaning is as simple as dumping the grounds from the infuser and leaving the pitcher so soak with warm water and soap.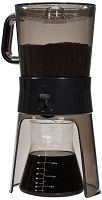 The OXO Good Grips Cold Brew Coffee Maker works faster than the Takeya Cold Brewer. Within 12 to 24 hours you can enjoy smooth, favorable low acidic coffee. It features a rainmaker system which allows for the even distribution of water over the coffee grounds, resulting in a more concentrated, tasty beverage. Keep your hands clean and simply hit the switch to activate the filtration process. An automatic sensor shuts off the system after the carafe is removed, so no mess is made. The silicone seal works to keep the coffee fresh inside the carafe until you've poured the last drop. Like the Takeya Cold Brewer it comes with BPA free plastic, though it is pricier.
Conclusion
Cold brewed coffee is not only naturally more delicious, it a healthier choice with minimal acidity. We are making it easy for you to find the best cold press coffee maker for your home, so now it's up to you to make your pick. Prices and simplicity vary with each system but if delicious coffee is all you're interested in, any of the systems above will suffice.