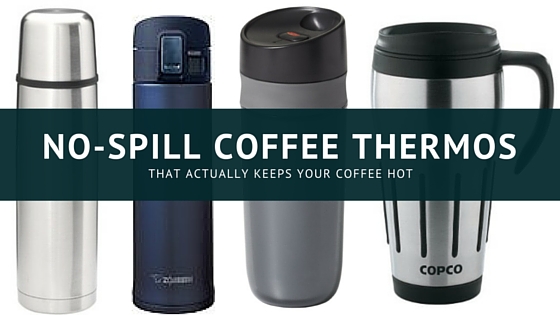 I'm a coffee drinker; night or day, bring on the caffeine. Even though I occasionally dabble in drinking cold coffee drinks, there's just something about the taste of hot coffee.
If I'm buying a container to carry my hot coffee with me, I expect the coffee to be hot when I get where I'm going. I'm not the only one who feels this way about their coffee. Manufacturers know that we coffee drinkers like it hot, and they continue to roll out new products to help us achieve our goals. From plugin travel mugs to keep your coffee hot during the ride, to cup-sized hotplates to keep it sizzling once you arrive, there is a method for our every hot coffee madness. One method of carrying coffee has endured throughout the ages…the thermos.
Finding the Best Coffee Thermos
When you are looking to select the best coffee thermos, what you really have to consider is 1) whether the manufacturer has successfully executed the vacuum insulation technology and 2) whether the resulting vessel has the other qualities and features you want.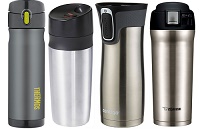 Modern insulated containers use a sealed space between two layers to create a vacuum, a nothingness through which heat and cold do not pass. So, if all the containers are the same, why does it matter? The technology may be the same, but the implementation- that's another story. As one would expect, most manufacturers get the two walls with a space in between part right. Where modern manufacturing goes wrong is in adding features that defeat the technology. Any non-vacuum point of contact or opening is a point of heat transfer. A large mouthed container, one with a poor seal or thin capping materials all result in the coffee losing its heat. It doesn't matter how well the tube is insulated if top leaks out all the heat.
Looking at some of the most popular coffee thermoses, I see that there are some clear standouts. The following thermoses each bring the heat and keep it with vacuum-sealed insulation. So when choosing the best, it comes down to a question of features.
Best Coffee Thermos Contenders
Thermos Vacuum Insulated 25-Ounce Compact Stainless
Thermos is the brand; thermos is the product. This no-nonsense container includes the Thermos brand twist and pour stopper and an insulated stainless steel cup. Because the cup is insulated just like the thermos, it serves to lock in heat when used as a lid and keep your drink hot (or cold) when used as a cup. Thermos uses unbreakable 18/8 stainless steel both inside and out for this product. One of the highest grades of stainless steel, items made from 18/8 stainless are corrosion resistant and built to last. BPA free and durable, this thermos will take you through 24 hours with your coffee hot and ready to drink by your side.
Thermos Stainless Steel King 40 Ounce Beverage Bottle
If 25 ounces of coffee isn't enough to get you through your day, then you might need the King. The King has all of Thermos' best features with a built-in insulated cup, a twist and pour stopper and durable steel materials inside and out. The King stainless steel beverage bottle can hold up to 40 ounces of liquid. A fold flat carrying handle adds convenience and a sure grip to this container.This is a thermos for someone who has places to go and things to do- things that require copious amounts of coffee. Because of its size, the
Thermos Stainless Steel King
might not be the most convenient thermos for a quick commute but is definitely holds its own over the long haul.
OXO Good Grips Double Wall Travel Mug
The
OXO Good Grips mug
offers the same double walled insulation as the other contenders, but with a twist. The OXO is not made of stainless steel. As a result, this mug won't hold heat quite as well as a steel mug might. OXO is known for its functional, ergonomic designs, and this mug is no exception. The lid has three separate silicon seals to prevent leakage. A button press opens the lid and seals it again with an audible click. No twisting required. This mug can be held and opened for drinking with one hand, which is a great feature when you are a commuter on the go.The OXO has a great form factor, but the smallest capacity in our set at only 15 ounces. Lightweight and compact, the OXO is a mug designed to get you to your destination hassle-free. You can catch a refill once you arrive.
Zojirushi Stainless Steel Mug

Though not quite as famous as Thermos, Zojirushi is quickly becoming a favorite among thermos users. It has a sleek design, lots of color choices, high-quality materials, and works. The Zojirushi is a mug rather than a full beverage container, so it only holds 16 ounces. Rather than drinking from a built-in cup/lid you can drink your coffee straight from this thermos. It features an attached flip-top cap and a removable leak-resistant stopper. The Zojirushi has a wide opening that can accommodate full-sized ice cubes, should you ever want a cold drink. This container is slim so it is easy to carry along. At just a 16-ounce capacity, it might not take you through your day but it will give you a good start.
Copco 24-Ounce Big Joe Thermal Travel Mug
With a 24-ounce capacity, the
Big Joe thermal travel mug
holds as much coffee as a slimline thermos. Copco added a few design details that take this a step above just a thermos, though. First, the mug is made with a tapered base so that it will fit into most cup holders. Non-slip materials on the bottom and around the base help this mug sit securely where you place it. The contoured handle will help you keep a good grip on this one. In the end, though, with a plastic lining and snap top lid, the Copco Big Joe doesn't hold the heat the way a solidly designed vacuum sealed thermos does. Plus, I have small hands, so pulling open a snap lock lid is a challenge for me. This mug would be best for someone who drinks a lot of coffee during their commute, but not someone who plans on making it through the day with a single container.
Our Pick

To find the best coffee thermos, look for a quality manufacturer that offers the features, size and capacity that suits your lifestyle. For me, the Zojirushi fits the bill. It has all the quality features I want and the form factor is right for me. My second-ranked favorite would be one of the Thermos brands. Thermos is a time-tested manufacturer that continues to offer a quality product. The OXO is attractive because of its single-hand use and light weight, but when I travel, I need a little more fuel than it can carry. The Copco Big Joe mug has a great capacity and form factor, but doesn't meet my hot and spill proof standards.
Now, what's the best coffee thermos to meet your needs?