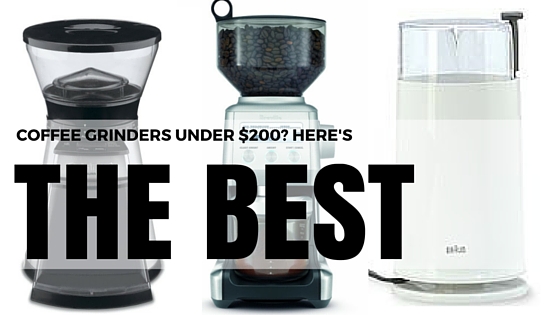 Coffee connoisseurs know that if you want to produce a really good cup of coffee at home, then you need the perfect coffee beans and effective brewing machinery. They will also be quick to point out that you need to add a good coffee grinder to your shopping list. It's a well-known fact among the 'coffee lords' that a good grinder makes a world of difference in the quality of your morning cup of Joe.
A good quality coffee grinder:
Gives consistency of grind, replicating the taste and quality of the coffee from cup to cup and day to day.
Offers a range of granularity, producing grounds ideal for flavor extraction in a French press, automatic drip, or espresso machine.
Operates at a low-temperature with low-noise output. This last one is very important to the early risers who like to enjoy freshly ground and brewed coffee, but do not wish to wake the rest of the house with noise equaling a mini war.
While grinders can run into the expensive range, we have found, and reviewed 5 great selections for you. Each is under 200 dollars and available on Amazon.com
Top 5 Best Coffee Grinders Under 200 Dollars
Braun Aromatic Coffee Grinder
The Braun Aromatic has a powerful 150-watt motor and grinds enough beans for up to 12 cups of coffee at one go. It features stainless steel blades, which users affirm do a good job of giving a quick and even grind. The grinder comes with a safety on and off switch and will not work unless the lid is securely in place and locked down. It fits neatly on your countertop with its sleek design and does not need to be unplugged after use due to its convenient cord storage.
Customer reviews consistently praise the longevity of the Braun Aromatic and the fact that it is simple to operate. They also remark that it is easy to clean, although not dishwasher safe. This grinder does not have ground-size settings to choose from, so the fineness produced depends on how long you press down on the lever. Users suggest that you use small quantities of beans if you want the grinder to give you a good extra fine grind.

Waring Commercial Electric Spice Grinder
The Waring Commercial Electric Spice Grinder features a high-performance, commercial-grade motor and durable stainless steel blades meant to create fine grinds and maximize motor efficiency. Its three fully removable and dishwasher safe stainless steel grinding bowls come with sealed-for-freshness lids for convenient storage of ground items. Apart from coffee, you can do cinnamon sticks, nutmeg, peppercorns and much more without worrying about mixing flavors, since each grinding bowl has its own blades and locks in place on the base.
Some customers highlight an overheating problem with this grinder, with others suggesting that the grinder's pulse action be used at the beginning of each grind to avoid overheating. Other suggestions from customer reviews include using small quantities at each go; and allowing practice from repeated use to help you perfect how long to hold down the button to achieve the required fineness of the grind.
Capresso Infinity Burr Grinder
The Capresso Infinity Burr Grinder is designed with commercial-grade conical solid steel burrs, produced as matched pairs and hand assembled in Switzerland for a precise fit. Built for high precision grinding, they ensure that you get maximum coffee flavor. This grinder boasts 16 clearly marked fineness settings – 4 each for extra fine, fine, regular and coarse – allowing you to make grounds ranging from Turkish fine to percolator coarse.
The Capresso Infinity Burr Grinder has a built-in timer you can use to set the grind for anywhere between 5 and 60 seconds. Customers attest that it is easy to clean and operates at low noise. For safety, the bean container also needs to be locked into place for the Infinity to operate.
The Capresso Infinity Burr Grinder has the slowest grinding speed in its class. This means it operates with less friction and heat build-up, preserving maximum aroma and flavor in any grind setting.

Cuisinart Programmable Conical Burr Mill
The Hopper Cuisinart Programmable Conical Burr Mill is the lowest priced on our list, but customer reviews suggest that you get value for money. It is comparable in capacity to the grinders that we have already looked at, giving enough grind for up to 14 cups of coffee. Customers rate it as very customizable, delivering on the advertised performance promise. With settings for 18 different fineness grind, it also comes with the option of manual grind; giving you greater control of the amount of grounds produced.
The Cuisinart Programmable Conical Burr Mill comes with a sealed hopper lid to keep the beans fresh between grinds. This, along with its large capacity, means you only need to refill it once it's empty. Automatic shut-off, an LCD display and convenient cord storage round out it features. Some customers point its tendency to be a bit messy, while others offer the solution of giving it a light tap before emptying the grounds.

Breville Smart Grinder
This one comes in just under the 200 dollar limit and is perhaps the pick of the bunch for The Best Coffee Grinder Under 200 Dollars. It has 25 grind settings and an automatic dosing system for calibrating each adjusted amount of coffee. Its backlit LCD screen clearly shows grind setting, number of cups, and customized grind amount.
The bean hopper features an air tight lid and locking system for easy removal, storage and transfer of coffee beans. Accessories include two portafilter cradles, a grind container and a conical burr cleaning brush.
Customer reviews suggest that the Breville Smart Grinder is well worth the price. They highlight its attractiveness, low noise, no mess and customizable features as some of the high points. Also good to know is that you can order extra hoppers from Breville so you can keep different coffees and their flavors separate.

Conclusion
Whether you already make use of a coffee grinder and are in the market for something new, or you are thinking of purchasing your very first one, you can rest assured that you don't have to break the bank to get one that delivers good quality.